An Oasis of Authentic Calabash Style Seafood in Raleigh
N.C. Seafood Restaurant is located at the North Carolina Farmers Market in Raleigh and has been serving the highest quality fried Calabash style seafood in a casual setting for 25 years.
Nestled in the back of the busy and beautiful North Carolina State Farmers Market, across from the open air farmers building where farmers are selling their seasonal fare is the N.C. Seafood Restaurant. Seafood lovers will find some of the best traditional fried Calabash Style seafood in Raleigh.
Great Seafood in Raleigh Since 1991, Plain and Simple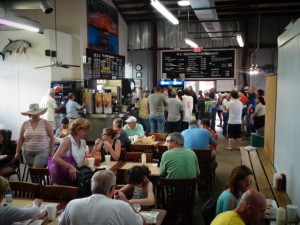 Years ago N.C. Seafood Restaurant was a treasured secret, but it didn't take long before word of mouth spread.
"That if you were looking for simply the best seafood in town at a fair price – you were going to N.C. Seafood Restaurant in Raleigh at the North Carolina Farmers Market".
Many people returning from the coast will say:
"they go to the beach for the ocean and sun and stop by N.C Seafood Restaurant in Raleigh on their way home for their seafood".
N.C. Seafood Restaurant opened in 1991 and has been under the same ownership for the past 25 years.
A lot has changed over the past 25 years. Many of our employee's children are now employees and many of our customer's children are now bringing their children in for their favorite N.C Seafood classic. But what hasn't changed is the dedication to our constitution at the N.C. Seafood Restaurant. We strive to stay true to our roots, whether that be our recipes, quality, or our dedication to customer service. Most of our regular customers know us by name and it won't take us long to learn yours.
So…if you are out and about and want to see the best Farmers Market in the South East come on by. And when you are out looking at those beautiful tomatoes from a local farmer or maybe watermelons or some other delicious North Carolina produce – we encourage you to follow that wonderful smell in the air that gets caught in the wind and blows in your direction.
It begins every day at 11:00 am. What is that wonderful smell? It is the smell of some of the best seafood our coast has to offer. So as you look across the market and see people headed to the N.C. Seafood Restaurant or sitting outside on our picnic tables and enjoying a shrimp burger, Calabash combination platter, or a basket of our homemade hush puppies, you will come join us.
We would like to make your family a part of ours for the next 25 years.