We have specialized in serving the highest quality fried seafood in the Raleigh area, in a casual setting, for the past 25 years.
Calabash Style Seafood in Raleigh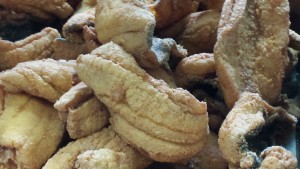 We specialize in Calabash style seafood, named for the North Carolina coastal town along the South Carolina border called the "Seafood Capital of the World". This preparation style includes battering the seafood in corn meal and deep frying it. As it is typical of Calabash seafood, we serve our meals with homemade hush puppies that are fried to a golden brown. Our seafood is fresh from the North Carolina coast and never frozen.
Fresh Seafood Served Every Day
We offer a wide selection of fried seafood dishes including shrimp, flounder, trout, catfish, oysters, scallops, crab cakes, and whitefish. We also offered broiled flouder, tilapia, grouper, mahi mahi, and more. Our side dishes include traditional Calabash style home fries, hush puppies, and coleslaw.
See our Menu page for the full list of items and price. Click here to get coupons for discounts on our lunch combos and popcorn shrimp.
Farmer's Market Restaurant Located in Raleigh
Visit us at the NC State Farmers market on the south side of Raleigh. We're open Monday through Saturday from 11am to 8pm, and Sunday from 11am to 5pm.