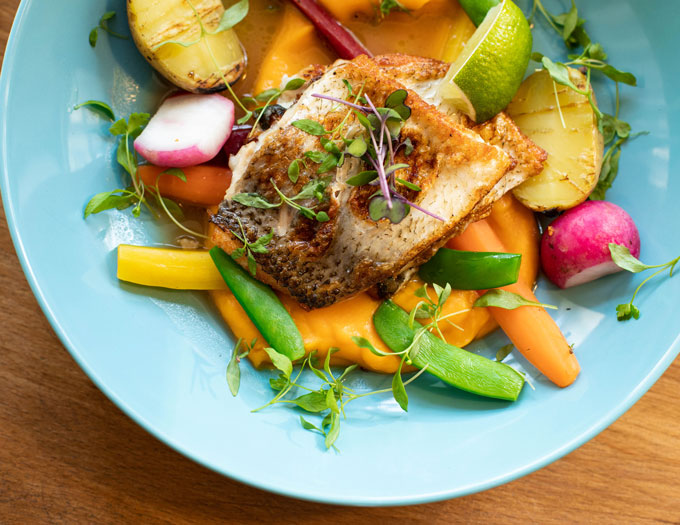 A pescatarian is someone one who consumes fish and seafood, but excludes meat. Whether a pescatarian diet is something familiar to you or not, there are many delicious and often healthy meals to enjoy that fall in this category. We're excited to share 3 simple and flavorful pescatarian recipes that will brighten up your culinary adventures for you and your family and friends.
Our cooks at our renowned Calabash Seafood Restaurant in Raleigh have been mastering the art of creating excellent seafood meals for many years and are happy to share some of our favorite dishes to cook at home with you here.
3 Easy & Delicious Pescatarian Recipes
Grilled Shrimp with Butter
What you'll need:
¼ tsp. of salt
2 lbs. of shrimp, uncooked. Devein and peel before cooking
2 tsps. of chili powder
1 tsp. of ginger, ground
½ cup of melted butter
3 tbsps. of Lemon juice
Let's get cooking:
Mix together the melted butter, lemon juice, chili powder, ground ginger and salt in a small bowl. Then pour ¼ cup of this mixture into another bowl to use later.
Place the shrimp on soaked wooden skewers or metal skewers.
Using medium heat, grill your shrimp while covered for approximately 3 to 5 minutes per side or until they become pink. Baste them every so often with the mixture from earlier while grilling.
After they're cooked, take them away from the grill and brush them with the mixture you had saved earlier.
Salmon Sliders with Garlic-Herb Cheese
The ingredients:
1 lb. of salmon filet. Remove skin and slice into 1 inch cube pieces
8 dinner rolls, toast if desired
¼ cup of garlic herb spreadable cheese
8 small leaves of lettuce
⅓ cup of panko bread crumbs
4 tsps. of shallot, chopped finely
2 tsps. of fresh dill, snipped
1 tbsp. of horseradish
1 large beaten egg
¼ tsp. of salt
⅛ tsp. of pepper
Ready, set… Chef!
Use a large bowl to mix together all of the bread crumbs, shallot, dill, horseradish, beaten egg, and salt and pepper.
Put the salmon cubes into a food processor and pulse until they are chopped coarsely.
Add the fish to the mixture you just made then mix together. Use your hands to mold into 8 patties about ½ an inch thick each.
Add a light amount of grease to your grill rack. Grill the patties, covered on medium heat for about 3 to 4 minutes per side. Cook until you get a thermometer reading of 160°.
Once thoroughly cooked, place the patties on the rolls and add the lettuce and garlic herb cheese.
Grilled Lobster Tails
Gather the following:
½ tsp. of salt
½ tsp. of pepper
¾ cup of olive oil
3 tbsps. of fresh chives, minced
3 cloves of garlic, minced
6 thawed lobster tails – each should be approx. 8 to 10 ounces.
The steps:
Cut 3 or 4 slits lengthwise in the tail's underside. This will help loosen the shell. Then cup the topside of the shell down the center, lengthwise. Make sure to leave the tail fin intact.
At the base of the tail fin cut the shell in a direction away from the center of the tail, using an angle. Then you can use your fingers to loosen the meat away from the shell and pull upwards until the meat can sit over the shell, but ensure that the tail fin is still attached.
Mix together all of the other ingredients within a small bowl then carefully pour over top the meat with a spoon. Refrigerate covered for at least 20 minutes.
Put the tails with the meat facing upwards on your grill rack. Grill while covered using medium heat for approximately 10 to 12 minutes or until the lobster meat has an opaque appearance.
Enjoy A Pescatarian Diet at Our NC Seafood Restaurant!
We hope you like making these simple and tasty pescatarian dishes at home, and if you ever want to have someone else do the cooking, look to us! As a seafood restaurant dedicated to perfecting our craft, you can bet we serve up a multitude of scrumptious pescatarian dishes. We have fish, oyster, shrimp, clam, scallop dishes, and more on our menu. Conveniently use our site to order online here.