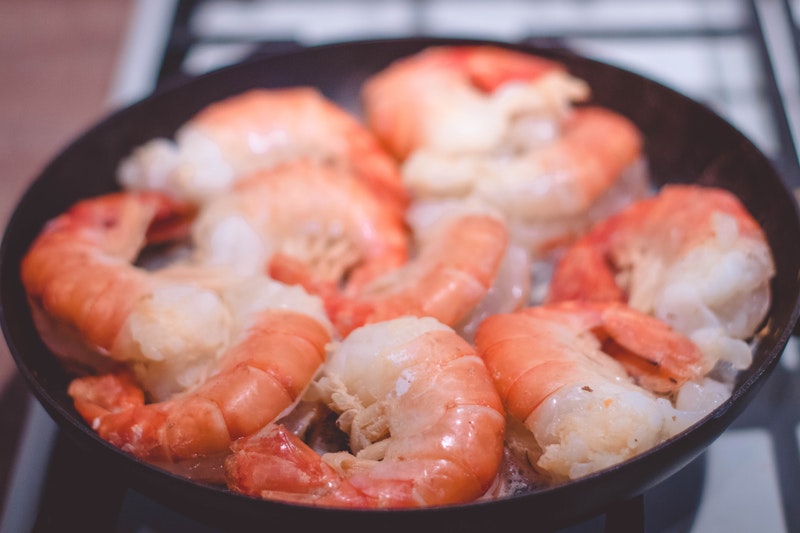 As the holiday season approaches, that means time to entertain and get creative in the kitchen. While ham or turkey may be the main event, you can't forget about the appetizers.
Seafood appetizers are a great way to go because they offer variety to your meal. We have some amazing seafood appetizer ideas that will leave your guests wanting more.
Bite-Size Appetizer-Teriyaki Bacon-Wrapped Scallops
Sometimes you just want an appetizer you can pop in your mouth. Teriyaki bacon-wrapped scallops fit that bill.
Ingredients
½ cup teriyaki sauce
⅓ cup brown sugar
3 tablespoons minced fresh ginger root
18 slices bacon, halved crosswise
12 large sea scallops, cut into thirds
36 toothpicks
Directions
Set oven rack about 6 inches from the heat source.
Preheat the broiler.
Line 2 baking sheets with aluminum foil.
Whisk teriyaki sauce, brown sugar, and ginger in a bowl.
Wrap each piece of scallop with a strip of bacon and secure with a toothpick.
Dip each bacon-wrapped scallop in the teriyaki sauce mixture and arrange on one of the prepared baking sheets.
Broil in preheated oven until lightly charred, about 6 minutes.
Flip scallops and transfer to the clean baking sheet and return scallops to the oven.
Continue to broil until bacon is charred on the second side, about 6 minutes more.
Recipe courtesy of Allrecipes.com
Simple Seafood Appetizer – Mini Crab Cakes
For the crowd that will be standing and chatting (and snacking), these mini crab cakes are simple for you to make and convenient to eat.
Ingredients
For the crab cakes:
½ cup mayonnaise
1 egg
2 tbsp chopped fresh chives
1 tsp Worcestershire sauce
1tsp Dijon mustard
1 ½ tsp Old Bay™ seafood seasoning
1 tsp fresh lemon juice
1 lb lump refrigerated, pasteurized lump crabmeat (cleaned)
2/3 cup plain panko crispy bread crumbs
For the lemon-garlic sauce:
1 cup mayonnaise
2 tsp Dijon mustard
1 tsp finely chopped garlic
2 tsp fresh lemon
¼ tsp salt
Directions:
Heat oven to 400 degrees; line large cookie sheet with parchment paper.
In a medium bowl, stir all crab cake ingredients except crabmeat and bread crumbs. Then, fold in the crab and crumbs until well blended. Shape into 36 1 1/2-inch balls and place on the cookie sheet.
Bake 16-20 minutes or until golden brown and hot inside; let cool 5 minutes before serving.
While the crab cakes bake, stir sauce ingredients together in a small bowl.
Recipe courtesy of Betty Crocker
Hot Seafood Appetizer – Crab Dip
While this recipe calls for a bread bowl, you can skip that and offer this simple, delicious seafood appetizer with a fresh vegetable tray or an assortment of crackers. You can make it a bit early and keep it warm in a Crock-Pot.
Ingredients
2 cups refrigerated lump crabmeat
1 cup sour cream
1 (8 ounce) package cream cheese, softened
1 cup buttermilk (if you don't have buttermilk, add 1 tsp of lemon juice or white vinegar to 1 cup of milk, stir, and let sit for 5 minutes)
1 cup mayonnaise
1 cup shredded Monterey Jack cheese
1 cup white Cheddar cheese
½ cup capers, drained
2 (8 ounce) cans artichoke hearts, drained and chopped
2 tablespoons minced garlic
½ tsp ground black pepper, or to taste
½ tsp dried dill, or to taste
¼ cup grated Parmesan cheese
½ tsp Old Bay Seasoning™
(Optional) 1 (8 ounce) round loaf sourdough bread
Directions
Preheat oven to 400 degrees and lightly grease an 8×8 inch square baking pan.
In a large bowl, combine all but the final three ingredients on this list. Spoon dip into prepared baking pan and sprinkle with Parmesan cheese and Old Bay Seasoning TM.
Bake in preheated oven for 15-20 minutes, or until the top is crusty.
(Optional) While the dip bakes, cut the top off the loaf of bread. Hollow out the loaf and cube the top and the removed pieces so that they may be used for dipping, and spoon hot dip into hollow bread loaf.
Recipe courtesy of AllRecipes
Classic Appetizer- Clams Casino
There's nothing wrong with serving a classic appetizer that you know is going to be a crowd-pleaser. You'll find clams casino on many menus because they're so tasty!
Ingredients
2 tablespoons olive oil
2 ounces sliced pancetta or bacon, finely chopped
1 cup finely diced red bell pepper
1/3 cup chopped shallots
2 large garlic cloves, minced
1/4 teaspoon dried oregano
1/3 cup dry white wine
4 tablespoons freshly grated Parmesan
Salt and freshly ground black pepper
18 medium (2 1/2-inch) littleneck clams, shucked, bottom shells reserved
Directions
Heat the oil in a heavy large skillet over medium heat.
Add the pancetta and saute until crisp and golden, about 3 minutes.
Using a slotted spoon, transfer the pancetta to a plate.
Add the bell pepper, shallots, garlic, and oregano to the same skillet and saute until the shallots are tender and translucent about 5 minutes.
Add the wine and simmer until it is almost evaporated about 2 minutes.
Remove the skillet from the heat and cool completely.
Stir the reserved pancetta and 2 tablespoons of Parmesan cheese into the vegetable mixture. Season the mixture, to taste, with salt and pepper.
Preheat the oven to 500 degrees.
Line a heavy large baking sheet with foil.
Arrange the clams in the reserved shells on the baking sheet.
Spoon the vegetable mixture atop the clams, dividing equally and mounding slightly.
Sprinkle with the remaining 2 tablespoons of Parmesan.
Bake until the clams are just cooked through and the topping is golden about 10 minutes.
Recipe courtesy of Food Network
Make Ahead Seafood Hors d'Oeuvres – Shrimp Cocktail with Singapore Hot Sauce
This delicious, sweet-and-spicy seafood appetizer brings an Asian zing to your next gathering. Plus, you can make it the night before to save time and cut down on stress.
Ingredients
2 tbsp canola oil
1 red onion (medium thinly sliced)
¾ cup ginger (coarsely chopped)
¾ cup light brown sugar
1 ¼ cups ketchup
¼ cup Chinese chile bean sauce
Lemon wedges (for serving)
4 pounds tail-on shrimp (large, cooked, chilled)
Directions
Heat the oil in a saucepan and cook the onion over medium-high heat until lightly browned, then lower the heat and cook the ginger over moderately low heat until softened.
Add the sugar, ketchup, and chile bean sauce and simmer until the sauce has thickened – generally around five minutes.
Pour the sauce into your blender and add ½ cup of hot water. Blend until smooth, then slowly add another ½ cup of water while the machine is on.
Pour the sauce back into your saucepan and simmer on low for about three minutes, then place in a bowl, cover, and refrigerate for at least two hours.
Before serving, squeeze lemon over the cooked shrimp, then serve with the sauce on the side.
Recipe Courtesy of Food & Wine
Shrimp Lover's Appetizer- Shrimp Lover Squares
If you're going to be entertaining a group that loves shrimp, this appetizer is sure to be a hit.
Ingredients
1 tube (8 ounces) refrigerated crescent rolls
1 package (8 ounces) cream cheese, softened
1/4 cup sour cream
1/2 teaspoon dill weed
1/8 teaspoon salt
1/2 cup seafood cocktail sauce
1/2 cup chopped green pepper
1/3 cup chopped onion
1 cup shredded Monterey Jack cheese
24 cooked medium shrimp, peeled and deveined
Directions
In a greased 13×9-in. baking dish, unroll crescent dough into a long rectangle; seal seams and perforations.
Bake at 375° until golden brown, 10-12 minutes. Cool completely on a wire rack.
In a small bowl, beat the cream cheese, sour cream, dill and salt until smooth. Spread over crust.
Top with the seafood sauce, green pepper, onion, cheese and shrimp.
Cover and refrigerate for 1 hour. Cut into squares.
Recipe courtesy of Taste of Home
Call Us for Calabash Fried Shrimp for Your Gathering
Let us take care of a popular seafood appetizer for you this season! Check out our menu for delicious, Calabash-style fried shrimp and dine with us or place an order online today!