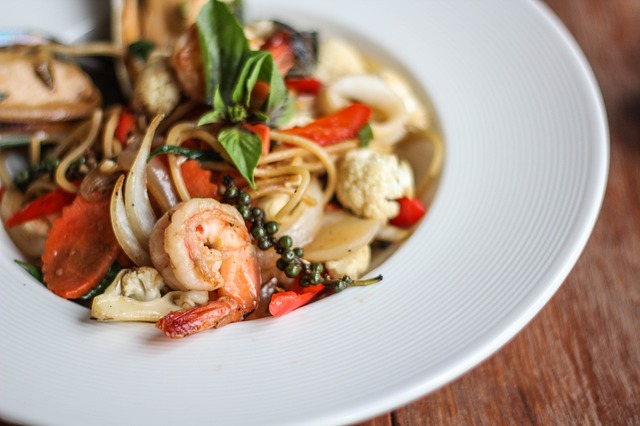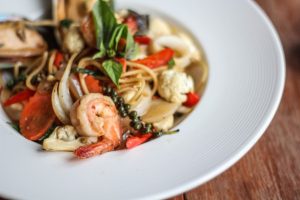 Christmas is almost here. So, here comes the annual festivities and traditions with Ol' Saint Nick, lights, spiced drinks, gifts, caroling, and everything peppermint. However, there is one tradition that may be unknown, but still special: Feast of the Seven Fishes.
The large celebration and grand meal is a tradition for Italian-Americans to commemorate Vigilia di Natale, which is the midnight birth of baby Jesus. Today, the feast usually consists of seven different variations of seafood dishes.
Here are Seven Seafood Dishes to include with your Feast:
Calamari
A versatile seafood, calamari can be sautéed in a sauce or deep fried and served as an appetizer. With a spritz of flavor from a lemon wedge, calamari is the perfect food to start your feast.
Although delicious, calamari, also, has a large number of dietary nutrients that are helpful to one's diet including calcium, zinc, vitamin C, and phosphorus. Additionally, high in protein, calamari is also very low in fat.
Cod
During the celebration, a traditional course meal is a Baccalà, which is a dry-salted cod. The cod can be prepared with pasta, vegetables, batter, or simply in a tomato sauce.
Sometimes considered the "Chicken of the Sea", Cod is a white flaky meat with a mild taste. Its flavors and texture is an excellent source of B12 vitamins, as well as, phosphorous and protein to help with muscle regeneration and energy. Additionally, cod is considered to be heart healthy with increased levels of potassium, B6 vitamins, and omega-3 fatty acids.
Clams
One of the iconic meals of the feats is a spaghetti with clams. This meal brings two rich, delicate flavors together for a delicious meal. Usually prepared as the fourth meal, spaghetti with clams is a fan favorite when it comes to taste and flavors.
Noted for its lean source of protein, steamed clams are a great, rich source of protein that will keep your stomach full and body energized longer. In addition to protein, clams are a high source of selenium, manganese, vitamin C, vitamin B12, and riboflavin, which are essential to a balanced diet.
Scallops
Italians are known for their flavors and usage of herbs and spices. Therefore, the mild taste of a scallop when prepared is with acidic flavors is a delicious Sicilian-style Citrus Scallops that is a hit at the Feast of Seven Fishes.
Considered as one of the world's healthiest food, Scallops are mild in taste and flavor. Its texture is close to a shrimp, but tender to the touch. Easily breakable, scallops are delicate and must be handled as such. The best part of a scallop is they are a protein powerhouse with 20 grams of essential proteins that are a dieter's dream.
Shrimp
A great addition to any pasta, deep fried, or even boiled, shrimp is a food that is used in various Italian dishes. One of our favorites is a shrimp scampi. Prepared in one dish, scampi is a coastal favorite that is mixed with pasta, garlic, white wine and a butter sauce.
Low in calories, shrimps and other crustaceans are a powerful balance of protein that is beneficial for losing weight. As a delicious dish, a shrimp scampi has both carbohydrates and proteins that will keep you full longer with a smile on your face for how delectable the dish was.
Salmon
Another member of the fish family, salmon is a rich, oily fish that that can be paired with full-body white wine to bring out the taste. Alongside the wine, our favorite dish for the holiday is a holiday salmon with roasted tomatoes and shallots. Baked in a dish in the oven, this recipe offers an aroma on your taste buds with one bite.
Hailed as one of the best foods for losing weight or increasing body mass, salmon is a wonderful source of protein to help you achieve that figure you want. Rich in omega-3 unsaturated fatty acid, salmon can help your heart stay healthy; therefore, it is a great food
Lobster
Dined by kings and queens, lobster is the main dish that is highly desired and appreciated. Sometimes paired with shrimp or steak, lobster is a great food when by itself, especially when used in a lobster tail with garlic lemon butter.
When it comes to benefits, lobster is a rich source of copper, selenium, zinc, phosphorous, and vitamin B12, vitamin E, and magnesium. Also, lobster, when eaten in moderation, is a good source of protein.
Crabs
One of our favorites, crabs are delicious food that can come in different variations. From blue crabs to king crabs, when combined with seasoning and even a bottle of beer then steamed, boiled, or fried, crabs are a versatile food that can be prepared in different ways.
Mild in taste, crab meat is from the crustacean family and is low in fat; containing about 82 calories per 3 ounces of meat. The benefits of the taste include various key vitamins or minerals that support a well balanced, good diet that is essential to every lifestyle.
Feast on Our Delicious Seafood in Raleigh!
When it comes to the feast of seven fishes, any combination of seafood will work, even in North Carolina. NC Seafood Restaurant in Raleigh, NC offers the freshest calabash style seafood in the Triangle including Garner and Cary. See our menu for our seafood options, and order online for take-out!