Whether you've tinkered with frying seafood at home before or you've only dabbled in pan sauteeing and baking, the NC Seafood Restaurant team is here to provide tips that will make frying seafood much easier than you imagined. While cooking, especially frying, seafood at home can be intimidating, there's good news—frying your deep-sea dishes is not just doable for a home chef, it can be quick and seamless. Plus, your family and friends will be impressed by your restaurant-worthy presentation. 
At NC Seafood Restuarant in Raleigh, NC, we've been serving up the freshest fried seafood in North Carolina for years, and we're sharing some of our trade secrets you don't want to miss. 
What You Need to Properly Fry Seafood
When it comes to frying seafood, every chef needs the right supplies in order to deliver the best dish to the table. Here's what we recommend you have handy when it comes to frying seafood.
Oil thermometer
Deep fryer, or a pot with enough depth to hold several inches of oil
Wire frying basket
Wire racks
Paper towels
Depending on the recipe, you may need a few extra supplies. However, for just the frying part, you should be able to get the job done with just the things listed above!
Tips for Frying Seafood Like a Chef
Before you get started, there are a few tips for frying seafood that you should keep in mind throughout the process.
The Right Oil Matters
When choosing an oil to deep-fry your fish in, you'll want to take a few factors into account. Those include the smoke point (the temperature at which it stops simmering and starts to produce smoke) and flavor.  
It's best to fry fish at a temperature of between 350 degrees and 375 degrees, so you should choose an oil that has a smoke point that is a bit higher than that at the least. 
The flavor of the oil in which you are frying seafood is also important since you don't want the taste of the oil to overpower the taste of the fish itself. More times than not, we recommend using a neutral-tasting oil such as canola oil which offers a high smoke point and a nearly flavorless taste. You can also opt for peanut oil which is equally mild in flavor and provides the essential high smoke point. If you don't have either of these on hand, you can opt for vegetable or sunflower oil in a pinch.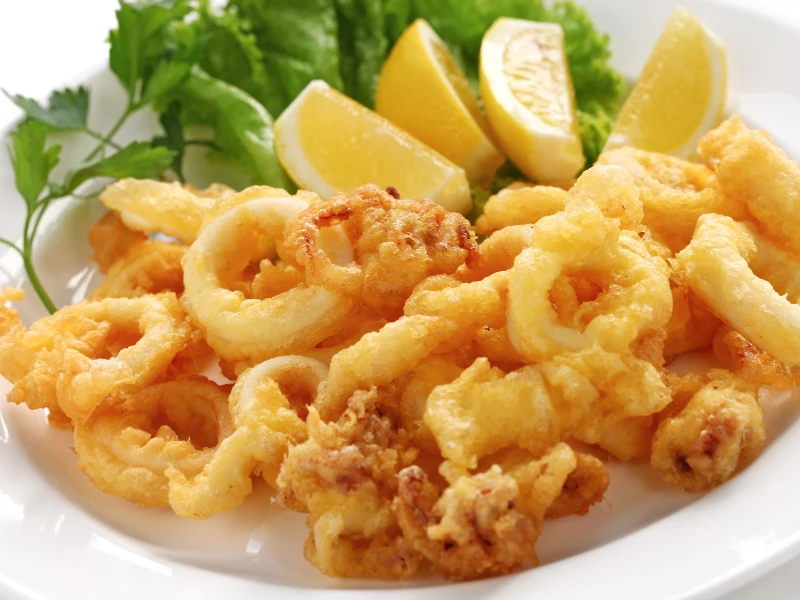 Setting the Temperature
Once you have the oil in the pan, you can begin heating it to the proper temperature. When frying seafood, that temperature should be between 350 degrees and 375 degrees. If it's not hot enough, the crust will end up more oily than crispy. If it's too hot, you run the risk of burning your seafood. 
Use your oil thermometer here to be sure your oil is up to the right temperature before you add the seafood to your pan. As you cook, be sure to allow the oil to return to the optimal temperature in between batches. Your oil thermometer will come in handy throughout the process!
Keep it Small
If you're frying a lot of seafood, you may be tempted to add as many pieces as will fit into the pan at once to reduce cooking time. After all, it will take less time to fry 12 cuts of fish if you do two batches of six, rather than three batches of four, right?
Surprisingly, no. When you overcrowd the pan with seafood, the temperature of the oil will drop, resulting in not only longer frying time, but greasier seafood. For both flavor and efficiency, keep your batches small. 
Dry Off
You may already know that you need to remove the extra oil from your fried seafood after you remove it from the pan, but did you know that there's a right and wrong way to do it?
The best bet is to move your seafood to a wire cooling rack and let the excess oil drain that way, patting it down with a paper towel to quicken this process.
In the past, it was common practice to simply use paper towels or brown paper bags to soak up the oil, but this is likely to leave a lot of the frying medium on the skin of the fish, which can then dilute its flavor.
The Best Fried Seafood Recipes
Whether you're new to frying seafood or you're a pro, here are some classic dishes that you can't go wrong with.
Fried Shrimp
For the best southern-fried shrimp, toss them in a mixture of milk, oregano, paprika, garlic, salt, and pepper (add cayenne if you like a kick!). Then, in a separate bowl add flour and more of the spice mixture. After the shrimp have marinated for around ten minutes, move them to the flour for breading. 
Add them to the hot oil and cook for around four minutes, then serve with a yummy dipping sauce like honey mustard or sriracha mayo!
Fish and Chips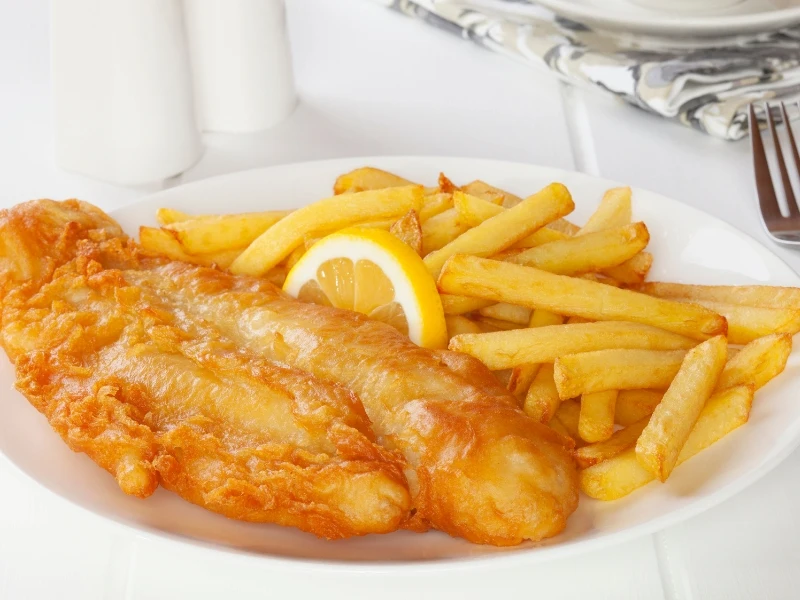 There's nothing quite like fish and chips when you need cozy comfort food. To make yours at home, you'll need your favorite white fish (cod is the typical choice here), and a beer batter made of flour, cornstarch, baking powder, salt, pepper, sparkling water, and of course, beer. 
Let the batter sit for around thirty minutes, then dip your fish filets in plain flour before coating them in the batter. Add them to your hot pan and fry for around eight minutes. Serve with the chips of your choice (we're partial to a crinkle-cut), and enjoy!
Fried Catfish Tacos
Fish tacos have been a go-to choice for many seafood eaters for a long time and for a good reason. A juicy filet of fish is nestled in a soft corn tortilla and topped with cilantro, chipotle mayo, and any other toppings you fancy. Fried catfish is a staple in southern cooking for good reason — it's flavorful, affordable, and easy to find. For the tastiest tacos every time, coat your catfish in a batter of flour, salt, baking powder, hot sauce, and a little club soda. Then, dip them in panko breadcrumbs for that extra-crispy texture, and fry for a few minutes per side. 
Add coleslaw, hot sauce, and a bit of lime and you'll be craving catfish all year long.
Visit NC Seafood for Raleigh's Finest Fried Seafood
If you're out and about in Raleigh and are craving a delicious yet affordable seafood platter, we invite you to visit NC Seafood Restaurant at the Raleigh Farmer's Market. Our Calabash-style seafood plates begin at just $17, and most customers find that one plate offers 2 meals! This way, you can share lunch with a loved one or reheat your leftovers using our tried and true tips for lunch the next day. At NC Seafood Restaurant, we pride ourselves on offering high-quality seafood at affordable prices.
Our commitment to quality, customer service, and sustainability is second-to-none. We've been serving the best-tasting fish in the community at our Raleigh seafood restaurant for years, sharing our favorite recipes and our love of seafood with our North Carolina neighbors. 
Check out our wide selection of fresh fish and read reviews from our trusted patrons for more.  
Be sure to sign up for our monthly newsletter using the form below so you don't miss out on the latest happenings!