Do you remember in the movie "Forrest Gump" when Forrest's friend ("Bubba"), who wants to open a shrimp business, starts naming all of the ways you can cook shrimp? Well, there are a lot. To celebrate National Shrimp Day on May 10, we thought it would be appropriate to give you some shrimp recipes that might inspire you. Maybe you want to cook, or maybe you want to come to NC Seafood Restaurant and leave the cooking to us!
You can buy shrimp fresh or frozen and they come in many different types and sizes, all of which makes them very versatile. They are quick and easy to cook. Shrimp are great for appetizers at dinner parties (think boiled with cocktail sauce) or fancy dishes with other ingredients (think Mediterranean Shrimp). You can boil, bake, panfry, or stir fry shrimp. The choices are seemingly endless! We've picked out seven of the best, most popular shrimp recipes so your mouth can start watering considering what you might eat for National Shrimp Day.
Seven of the Best Shrimp Recipes
There are many awesome shrimp dishes. We have selected seven of our favorites that are all very easy to prepare.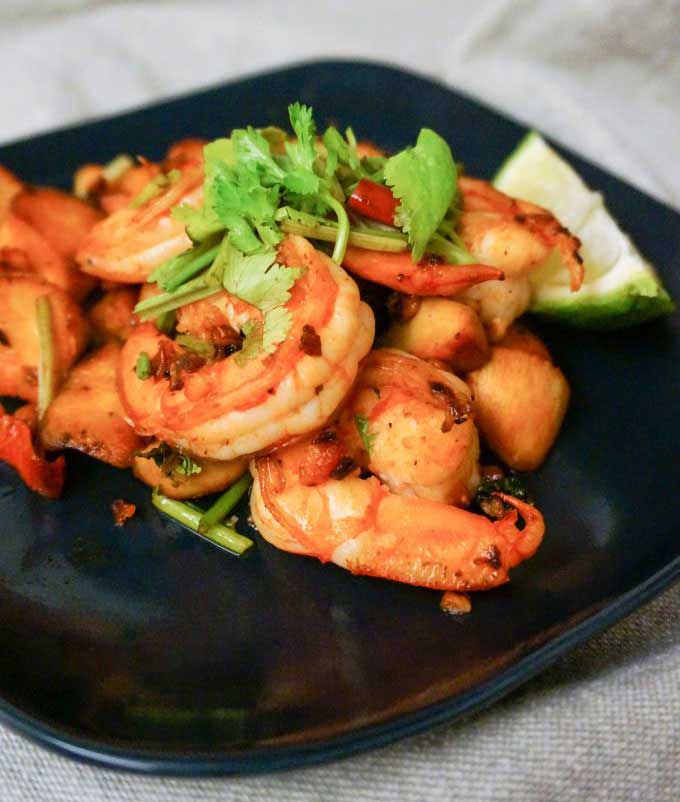 Sheet Pan Shrimp in the Oven
This takes the classic shrimp boil and switches it up just a bit. Instead of boiling the vegetables and the shrimp, you bake them on a sheet pan with oil and seasonings.
Preheat the oven to 425 degrees.
Start with quartered chunks of potatoes because these take longer to cook. In a bowl, mix the potatoes with olive oil and seasonings to taste, like Old Bay seasoning, coriander, dill, salt, and pepper. Place on two parchment-lined baking sheets and bake for 10 minutes.
Cut the cobs of corn into 2 or 3 or 4 pieces, depending on how large you want them. Using the same bowl, mix the corn with olive oil and seasonings. Add the corn to the baking sheets and bake for 12 minutes.
In the same bowl, mix the shrimp with olive oil and seasonings. Add the shrimp to the veggies on the baking sheets and bake for 10 minutes.
Garlic Grilled Shrimp Skewers
Serve these with steamed broccoli, green beans, coleslaw, or potato salad. You could also wrap them into shrimp tacos or put on a salad with spinach, avocado slices, red onions and asparagus. Jumbo shrimp are the best size for skewing. Make a marinade using these ingredients:
Olive oil (1/4 cup)
Cilantro and parsley (1/4 cup of each, finely chopped)
Garlic (4 cloves, minced)
Lemon juice (1 tablespoon)
Salt and pepper to taste
Cayenne pepper (just a pinch)
In a mixing bowl, toss the thawed shrimp with 80% of the marinade until they are completely coated.
Let the marinated shrimp sit in a covered bowl for about 30 minutes in the refrigerator.
Thread the shrimp on skewers and brush some more of the marinade on top.
Heat a grill or grill pan on medium-high heat, and place the skewers on the grill for 2-3 minutes on each side.
Transfer the skewers to a platter and drizzle the remaining marinade on top for extra garlicky flavor.
Shrimp Cocktail
Shrimp cocktail is a classic appetizer that all your guests will love. Our tip is to make your own cocktail sauce (of course, a good bought sauce can be used as well). Make the sauce about an hour ahead of time and store in the fridge.
Making the Sauce
Ketchup (1 cup)
Hot horseradish sauce (1/4 cup)
Worcestershire sauce (2 tablespoons)
Dijon mustard (1 1/2 teaspoon)
Tabasco sauce (1/2 teaspoon)
Applesauce (2 tablespoons)
Lemon zest
Jumbo shrimp, shells on (2 pounds)
Poaching the Shrimp
Boil water with lemon and then let the water come down to a simmer.
Add the shrimp with the shells on them.
Simmer the shrimp for 4 minutes. Then turn the heat off and let them sit in the water for 2 minutes.
Drain but don't rinse the shrimp. Let them cool. Then, peel and devein.
Put in the refrigerator or freezer to chill, depending on how much time you have. If you put them in the fridge, keep them there for about 2 hours. If you are pushed for time, put them in the freezer for maybe 20 minutes. Just don't let them freeze!
In a small bowl, mix together everything except the shrimp and lemon until smooth.
Cold Shrimp Dip
This is a traditional dip that is unbelievably easy to prepare. Use canned tiny shrimp for this delicious dip. Serve with crackers and/or veggies.
Ingredients
Canned tiny shrimp, drained and rinsed (1 can)
Cream cheese, softened (8 ounces)
Mayonnaise (not Miracle Whip) (1/2 cup)
Fresh green onions (1/3 cup)
Garlic salt (1/2 teaspoon)
Making the Dip
Chop the shrimp finely. Reserve a few of the prettier shrimp.
Chop the green part of the green onions.
Blend cream cheese and mayo with an electric mixer or blender.
Stir in shrimp, green onion, and garlic salt. Top with the reserved shrimp and additional green onion.
Shrimp Scampi
This classic shrimp recipe is super easy and majorly flavorful! You can eat it with or without pasta. It's your choice.
Ingredients
Butter (4 tablespoons)
Olive oil (2 tablespoons)
Garlic cloves, minced (6)
Dry white wine (3/4 cup)
Salt (1/2 teaspoon(
Crushed red pepper flakes (1/2 teaspoon)
Large or extra-large shrimp, shelled and deveined (1 1/2 lbs)
Fresh parsley (1/4 cup)
Freshly squeezed lemon juice
Making the Shrimp Scampi
In a large skillet melt the butter with the olive oil over medium heat. Add garlic and saute until fragrant, about 1 minute.
Add in wine and bring to a simmer. Allow the wine to reduce by half, about 6 minutes. Add in salt, red pepper flakes and black pepper.
Add in shrimp and saute until shrimp is pink, about 2 to 4 minutes depending on the size of the shrimp.
Stir in parsley and lemon juice. Serve with crusty bread.
If serving over pasta, reserve 1/4 cup of the pasta cooking liquid. Stir the reserved liquid into the butter sauce before tossing with pasta.
Shrimp Alfredo
This is an easy recipe that can be put together quickly any time. Tender shrimp and fettuccine pasta drenched in creamy garlic sauce.
Ingredients
Fettucine pasta (8 ounces)
Shrimp (1 pound large or small, your preference)
Butter, unsalted (2 tablespoons)
Cream cheese (4 ounces, softened and cut into small pieces)
Heavy cream (3/4 cup)
Chicken broth (1/4 cup)
Garlic (2 large cloves minced)
Parmesan cheese (1 cup grated)
Salt and pepper to taste
Making the Shrimp Alfredo
Add the butter, cream cheese, heavy cream, chicken broth, and garlic to a skillet over medium heat. Cook for 5 minutes.
Stir in the parmesan cheese and let it cook for about a minute.
Add the shrimp and cook for 5-6 minutes.
Season to taste and toss with pasta.
Mediterranean Shrimp
This is a healthy dish that tastes as good with frozen shrimp as it does with fresh.
Large shrimp (1 pound frozen or fresh, peeled, deveined with tails on or off)
Kosher salt (3/4 teaspoon, divided)
Ground black pepper (1/2 teaspoon, divided)
Extra virgin olive oil (2 tablespoons)
Small red onion
Garlic (2 cloves)
Fire roasted diced tomatoes in juices (1 14.5 ounce can)
Oregano (1 teaspoon, dried)
Red pepper flakes (1/4 teaspoon)
Honey (1 teaspoon)
Red wine vinegar (1 tablespoon)
Artichoke hearts (1 14 ounce can)
Kalamata olives (1/2 cup pitted)
Feta cheese (3/4 cup, crumbled)
Fresh parsley (2 tablespoons)
Fresh lemon juice (2 tablespoons)
Serve with rice, couscous, crusty bread, or pasta
Making the Mediterranean Shrimp
Preheat oven to 400 degrees.
Pat the shrimp dry, place in a mixing bowl, sprinkle with 1/2 teaspoon salt and 1/4 teaspoon black pepper. Toss to coat and set aside.
In a large, ovenproof skillet over medium heat, heat the olive oil. Add onion and sprinkle with the remaining 1/4 teaspoon salt and 1/4 teaspoon black pepper. Cook, stirring until softened, about 5 minutes. Do not brown the onion. Add the garlic and cook for about 30 seconds, just until fragrant.
Add the tomatoes, oregano, and red pepper flakes. Reduce the heat to medium-low and let gently simmer for 10 minutes. Stir in the red wine vinegar and honey. Remove from heat.
Scatter the artichoke hearts and olives over the top, then arrange the shrimp on top in a single layer. Sprinkle with the crumbled feta cheese.
Bake for 10 to 12 minutes, until the tomatoes are bubbling, the cheese has browned slightly, and the shrimp are cooked through.
Squeeze the lemon juice over the top and sprinkle with parsley.
Come Dine with Us for Delicious Shrimp in Raleigh!
We hope our shrimp recipes have made you hungry for shrimp! But, if you aren't in the mood to cook, just come see us at NC Seafood Restaurant located at the Farmers Market in Raleigh. We have fresh and delicious shrimp, especially our Calabash-style shrimp, scallops, and fish! Read our reviews. Place an order online for your next shrimp meal!