Seafood Gumbo is a staple of New Orleans cuisine, but even if you don't live in the French Quarter, it's a dish that has to make it to your dinner table. However, no two gumbo recipes are created equal as there is Creole style gumbo that contains shellfish and tomatoes and then there is Cajun gumbo that is usually spicier and cooked with shellfish or chicken.
If you're looking for how to make seafood gumbo, we've gathered two different recipes so you can decide if you want to try the Cajun or Creole version…or both!
Cajun Seafood Gumbo
When you're talking about Cajun Seafood Gumbo, you'll typically find that besides shrimp and crab, recipes also use what's referred to as the "Holy Trinity", onions, bell pepper, and celery, as well as garlic, and other seasonings.
Don't let the list of ingredients scare you, there are many spices that go into making this delicious meal. It will be well worth it!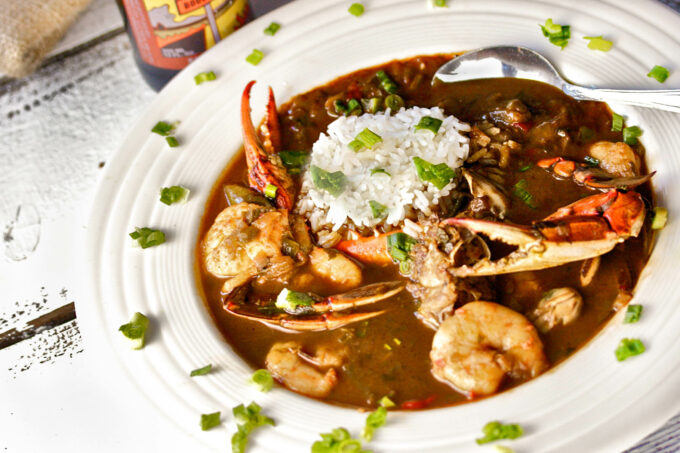 Ingredients:
1 tablespoon vegetable oil
2 cups diced yellow onion
1 cup diced celery
1 cup diced green bell pepper
2 tablespoons minced garlic
1 cup diced green onion tops
½ cup chopped flat-leaf parsley
4 cups sliced smoked pork sausage
1 teaspoon kosher salt
1 teaspoon freshly ground black pepper
1 teaspoon white pepper
1 teaspoon smoked paprika
1 teaspoon cayenne
1 teaspoon hot sauce
3 quarts seafood stock
1 cup dark Cajun roux
4 gumbo crabs
1 dozen raw Louisiana oysters
2 pounds gulf shrimp
1 pound gulf crabmeat
1 pound Louisiana crawfish tail meat
6 cups cooked long-grain white rice
Potential Topping Add-on:
green onions
fresh parsley
sour cream
Directions:
Use a cast-iron pot with a heavy lid over medium-high heat.
Add the oil and sauté the onion, celery, bell pepper, garlic, green onion tops, parsley, and sausage for 5 minutes.
Add all the spices and hot sauce.
Add the seafood stock, roux, and gumbo crabs.
Close the lid and lower the heat to a simmer.
Cook for 1 hour.
Uncover and skim any oil or foam from the surface of the gumbo
Taste to see if you like the seasoning and adjust if necessary.
Add the remaining seafood.
Cover and simmer for 20 minutes.
Ladle the gumbo in bowls over the white rice.
Serve with hot sauce on the side along with diced green onion tops and French bread
Recipe courtesy: Acadiana Table
Creole Seafood Gumbo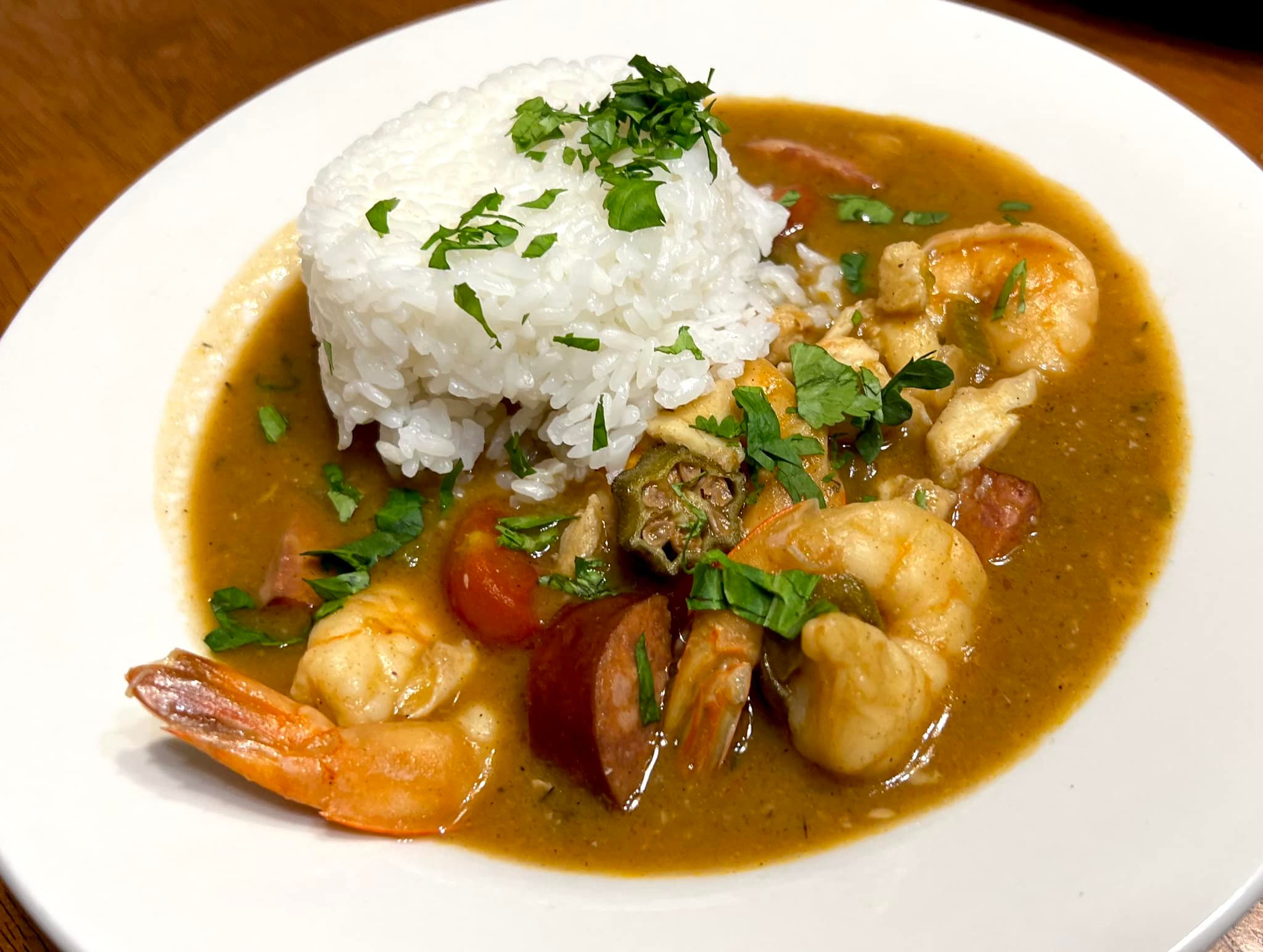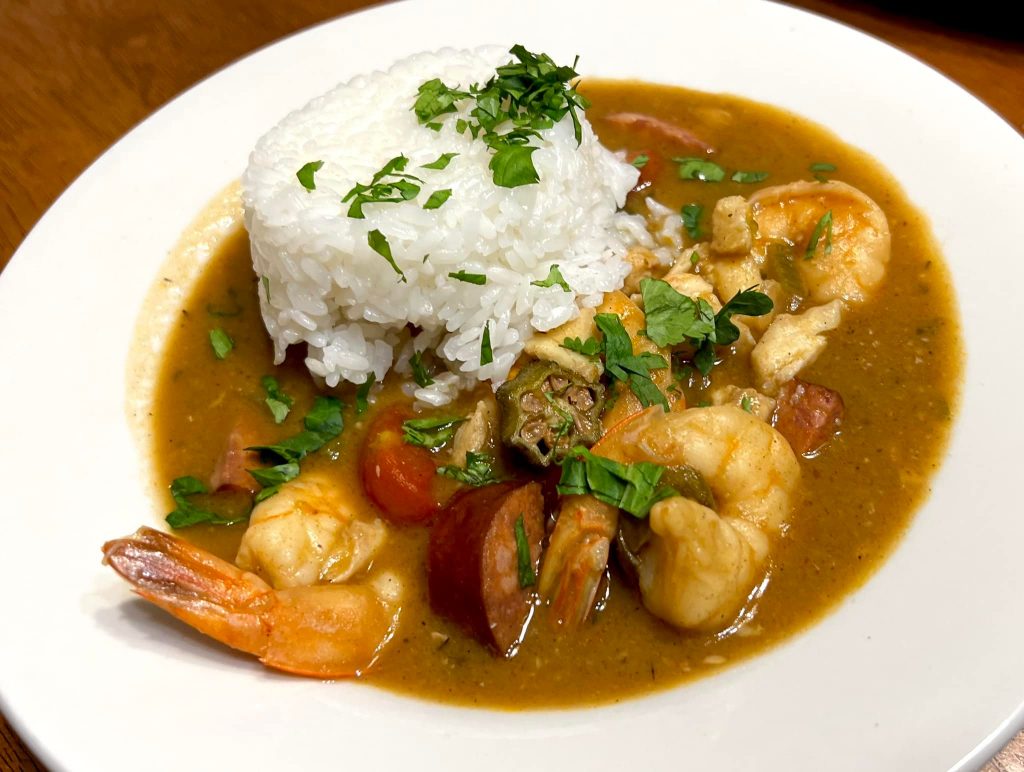 If Cajun Seafood Gumbo isn't your thing, you may want to try the Creole version. You can also make both to figure out which one is your favorite. This recipe has a long list of ingredients too, but don't be intimidated!
Ingredients:
1 cup all-purpose flour
¾ cup bacon drippings
1 cup coarsely chopped celery
1 large onion, coarsely chopped
1 large green bell pepper, coarsely chopped
2 cloves garlic, minced
1 pound andouille sausage, sliced
3 quarts water
6 cubes beef bouillon
1 tablespoon white sugar
salt to taste
2 tablespoons hot pepper sauce (such as Tabasco®), or to taste
½ teaspoon Cajun seasoning blend (such as Tony Chachere's®), or to taste
4 bay leaves
½ teaspoon dried thyme leaves
1 (14.5 ounce) can stewed tomatoes
1 (6 ounce) can tomato sauce
4 teaspoons file powder, divided
2 tablespoons bacon drippings
2 (10 ounce) packages frozen cut okra, thawed
2 tablespoons distilled white vinegar
1 pound lump crabmeat
3 pounds uncooked medium shrimp, peeled and deveined
2 tablespoons Worcestershire sauce
To Make the Roux:
Whisk together flour and 3/4 cup bacon drippings in a large, heavy saucepan over medium-low heat until smooth.
Cook roux and be sure to whisk it constantly until it turns a rich mahogany brown color. This can take 20 to 30 minutes.
Watch heat carefully and whisk constantly to avoid burning the roux.
Remove from heat and continue whisking until the mixture stops cooking.
Gumbo Directions:
Place celery, onion, green bell pepper, and garlic into a food processor and pulse until all the vegetables are finely chopped.
Stir vegetables into the roux and mix in the sausage.
Bring the mixture to a simmer over medium-low heat and cook until the vegetables are tender about 10-15 minutes.
Remove from heat and set aside.
Combine water and beef bouillon cubes in a large Dutch oven or soup pot.
Bring to a boil over medium-high heat.
Stir until bouillon cubes dissolve.
Whisk the roux mixture into the boiling water.
Reduce heat to a simmer and mix in the sugar, salt, hot pepper sauce, Cajun seasoning, bay leaves, thyme, stewed tomatoes, and tomato sauce.
Simmer soup over low heat for 1 hour.
Mix in 2 teaspoons of file gumbo powder at the 45-minute mark.
Melt 2 tablespoons of bacon drippings in a skillet over medium heat.
Add okra and vinegar and cook for 15 minutes.
Remove okra with a slotted spoon and stir into the gumbo.
Mix in crabmeat, shrimp, and Worcestershire sauce
Simmer until flavors have blended, 45 more minutes.
Stir in 2 more teaspoons of file gumbo powder just before serving.
Recipe courtesy: All Recipes
When making either recipe, you want to be sure to simmer it for the recommended time to get the best results. If not, your gumbo may not taste as good as it should.
3 Gumbo Cooking Tips
Don't Undercook the Roux
Be sure to cook your roux until it is a deep dark brown color and not burnt.
Use the Right Vegetables
Use the "Holy Trinity" of vegetables (celery, onions, and peppers). Many people make the mistake of using the wrong vegetables which can greatly change the taste of your gumbo.
Use Stock, not Water
Some people make the mistake of using water to cook gumbo, not stock. This results in a gumbo that doesn't have the flavors it should.
Storing Leftover Gumbo
Besides knowing how to make seafood gumbo, it's also important to know how to store it. Any leftover gumbo can be stored in the fridge for 3-4 days. Be sure the dish is at room temperature before placing it in an airtight container. Reheat on the stovetop for best results.
Are you Looking for Fresh Seafood?
When you want a night off from cooking and are craving fresh, tasty seafood, head on over to NC Seafood at the Farmer's Market in Raleigh. We have a complete menu of Calabash Style Seafood items to tempt your tastebuds for lunch or dinner every day of the week. Check out our menu and order online for pick-up. Come visit us today!