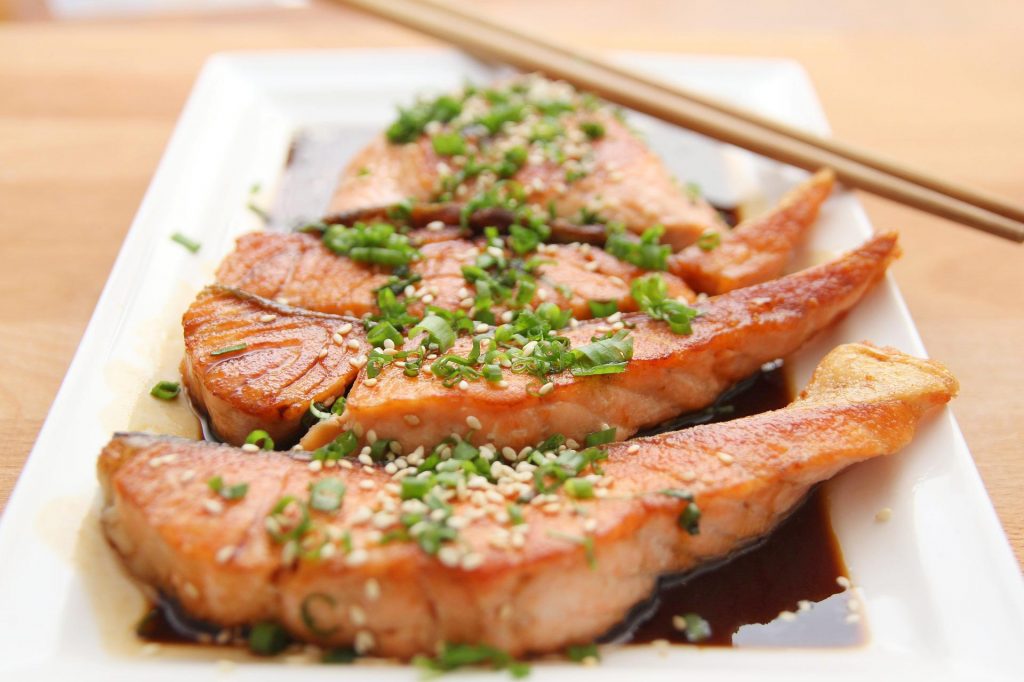 Have you ever tried a pescatarian meal plan? If you love fish and vegetables, you may want to think about it. Pescatarian meals are packed with fresh fish and plenty of vegetables to create some healthy dishes. If you're thinking of giving it a try or are already on the pescatarian meal train, we have some recipe ideas for you as well as a look at some of the benefits of a pescatarian diet.
What is a Pescatarian Meal Plan?
Simply put, people who follow a pescatarian diet and meal plan do not eat any meat or poultry. Instead, they basically follow a vegetarian diet that also includes fish. Many people who follow a pescatarian meal plan also eat eggs and dairy.
How Do I Know if a Pescatarian Meal Plan is for Me?
If you love a juicy burger, then a pescatarian meal plan is probably not for you. But, if you want a diet that focuses on eating a lot of vegetables and fish, this could be a good fit. A pescatarian meal plan includes fish, shellfish, and many plant-based and vegetarian recipes. If you're considering a major diet change and have a health condition, you'll want to check with your doctor first to make sure that it is a good fit for you.
What Foods are Included in Pescatarian Meals?
Besides fish and vegetables, pescatarian meals can include:
Beans and lentils
Fruits
Tofu and soy products
Seitan
Grains
Eggs
Nuts and seeds
Milk and dairy products
If you like these foods, then you'll probably enjoy many dishes on a pescatarian meal plan.
Benefits of a Pescatarian Diet
With plenty of veggies and fish, there's no denying that a pescatarian diet has health benefits. When people eat more plant-based meals, there tends to be more fiber with all of the vegetables, fruits, and beans. This is good for your health for the following reasons:
Reduces risk of heart disease and diabetes
Helps to promote a healthy gut
Includes Vitamin B12 and Omega-3 Fatty Acids
Helps to maintain a healthy weight
Because of the amount of fiber and the omission of meat in the pescatarian diet, many people who do follow a pescatarian meal plan do lose weight. The fiber makes you feel full longer which means you eat less.
Pescatarian Meal Plan Recipe Ideas
If you're ready to give the pescatarian meal plan a try, we have some recipe ideas. Let's get cooking!
Quick Shrimp Tacos
These make a great dinner when you're tight on time.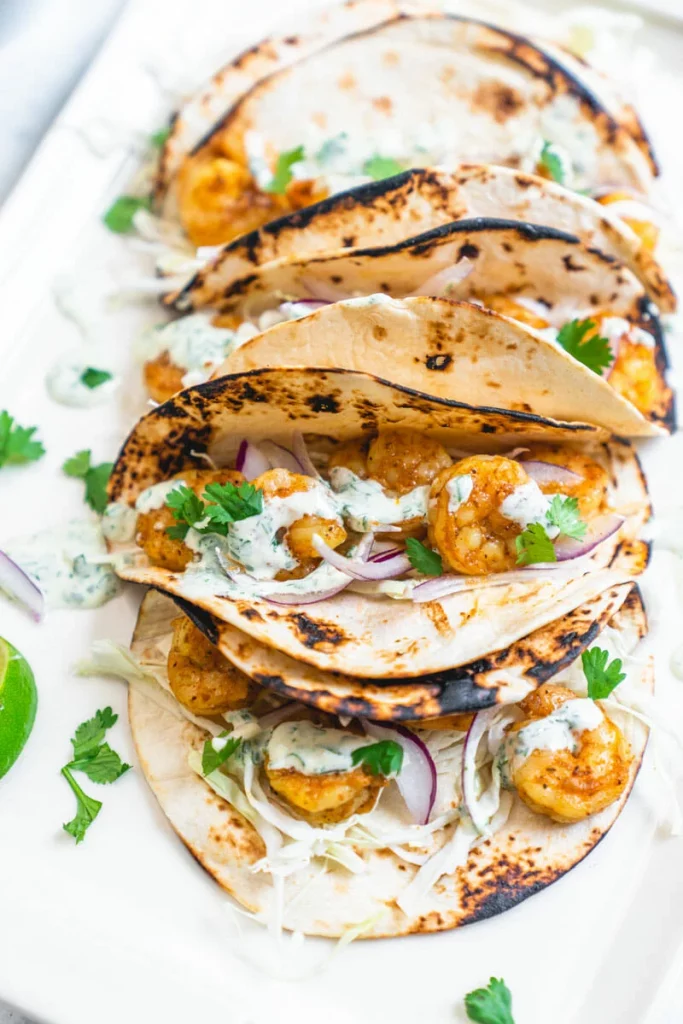 Ingredients:
For the Sauce:
2 tablespoons finely chopped cilantro
¼ cup plain whole milk yogurt
2 tablespoons mayonnaise
1 teaspoon apple cider vinegar
¼ teaspoon garlic powder
¼ teaspoon onion powder
¼ teaspoon cumin
⅛ teaspoon kosher salt
For the Tacos:
2 cups green cabbage
1/4 small red onion
1 garlic clove
1 pound large shrimp, thawed, deveined and peeled
1 tablespoon Old Bay seasoning
1 teaspoon cumin
⅛ teaspoon kosher salt
2 tablespoons butter
2 limes, cut into wedges, divided
8 tortillas
Cilantro, for garnish
Instructions:
Prepare the Sauce:
Finely chop the cilantro.
In a medium bowl, whisk all ingredients together. Refrigerate until serving.
Prepare the Tacos:
Thinly slice green cabbage and red onion. Put the onion in a bowl with cold water to remove some of the strong onion flavor; drain before serving.
Mince the garlic.
Pat the shrimp dry.
Mix the shrimp with the Old Bay seasoning, cumin, salt, and garlic.
In a large skillet, heat the butter on medium high heat. Cook the shrimp for 1 to 2 minutes per side until pink and cooked through, turning them with tongs. Spritz with juice of the two lime wedges.
If desired, you can char the tortillas by putting them on an open gas flame on medium for a couple of seconds on each side. Flip them with tongs until they are slightly blackened and warm.
Place the cabbage and red onion in a tortilla and top with shrimp to serve. Squeeze with lime wedges and top with the taco sauce.
Recipe courtesy: Quick Shrimp Tacos (Fast & Easy Dinner!) – A Couple Cooks
Teriyaki Salmon
Here's another idea when you want a healthy dinner but don't have too much time to prepare.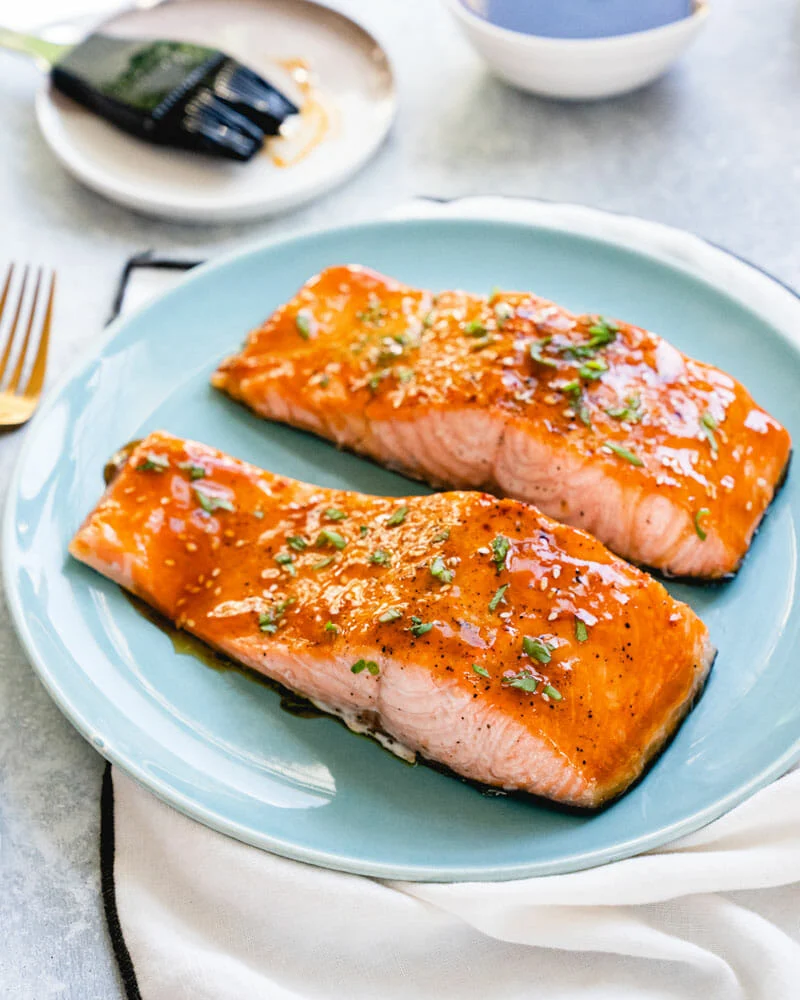 Ingredients:
For the Salmon:
2 large salmon filets (skin on, about 1 pound total)
½ tablespoon neutral oil, such as vegetable or canola oil
Minced green onions for garnish
Toasted sesame seeds for garnish
For the Homemade Teriyaki Sauce (can substitute ½ cup purchased if desired)
2 tablespoons regular soy sauce (or substitute tamari or coconut aminos)
2 tablespoons maple syrup
1 tablespoon rice vinegar
1 tablespoon toasted sesame oil
¼ teaspoon garlic powder
¼ teaspoon ground dried ginger
1 tablespoon cornstarch
6 tablespoons water
Instructions:
Place the salmon on a plate and allow it to reach room temperature before cooking. This should be done while preheating the oven to 400 degrees Fahrenheit. Pat the salmon dry and rub it with oil on all sides.
Make the teriyaki sauce by combining the soy sauce, maple syrup, rice vinegar, sesame oil, garlic powder and ginger over medium heat in a small saucepan. Bring it to a simmer and reduce the heat to low. Whisk the water and cornstarch together in a small bowl. Whisk it into the saucepan until the mixture thickens. Divide the teriyaki glaze in half into two small bowls and allow it to cool.
When the oven is preheated, heat a dry oven-proof skillet over high heat until very hot. Place the salmon skin side up onto the hot skillet. Cook without touching for 2 to 3 minutes to sear the top of the salmon, until the center of the salmon is starting to cook and you see a layer of brown. Turn off the heat and use a thin spatula to flip the salmon. Brush the top and sides of the salmon with ½ of the teriyaki sauce (¼ cup).
Place the skillet in the oven and bake it for 3-5 minutes until it is cooked through.
Use a hot pad to remove the skillet from the oven. Spoon the desired amount of remaining teriyaki sauce onto the top. Sprinkle with sesame seeds and chopped green onions and serve.
Recipe courtesy: Teriyaki Salmon (Quick Weeknight Dinner!) – A Couple Cooks
Green Goddess Quinoa Bowls with Arugula and Shrimp
This makes a good choice when you're looking for a healthy lunch.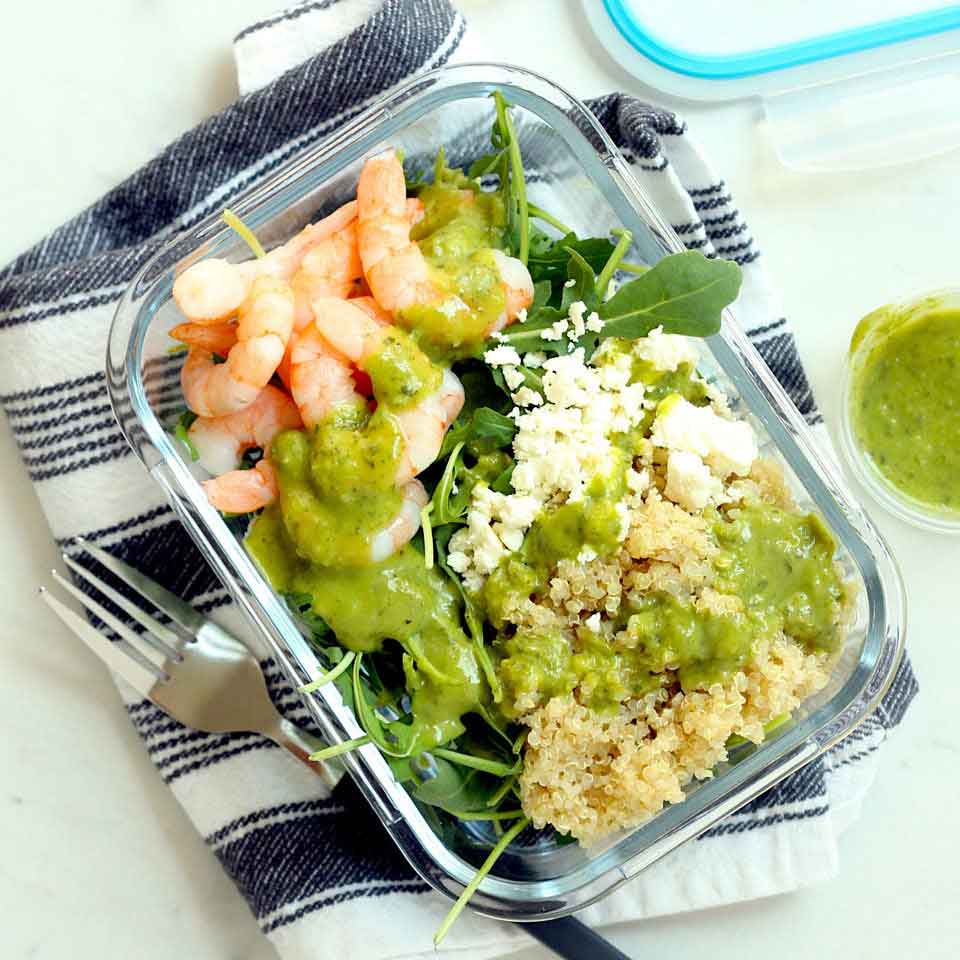 Ingredients:
1 (16 ounce) package frozen cooked quinoa
1 (16 ounce) package frozen peeled and deveined, cooked large shrimp
½ cup green goddess salad dressing
1 (7 ounce) package baby arugula
½ cup crumbled feta cheese
Instructions:
Prepare the quinoa by following the directions on the package. Once hot, transfer the quinoa to a shallow bowl to cool.
Put 2 tablespoons of dressing into each 4 small containers with lids and refrigerate for up to 4 days.
Divide the arugula into the containers (about 1 ¼ cups each). Top each one with ½ cup quinoa and 2 tablespoons of feta. Seal and refrigerate for up to 4 days.
Before taking it for lunch, transfer ¼ of the bag of shrimp to a colander and run under cool water until thawed. Add to the container and add salad dressing just before serving.
Recipe courtesy: Green Goddess Quinoa Bowls with Arugula & Shrimp Recipe | EatingWell
These are just a few of the many recipe ideas out there for those wanting to follow a pescatarian meal plan.
Visit Us for the Best Seafood in North Carolina!
When you're looking for the freshest seafood in North Carolina, visit N.C. Seafood at the Raleigh Farmers Market. Check out our menu for the tastiest dishes in town!