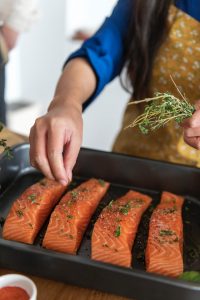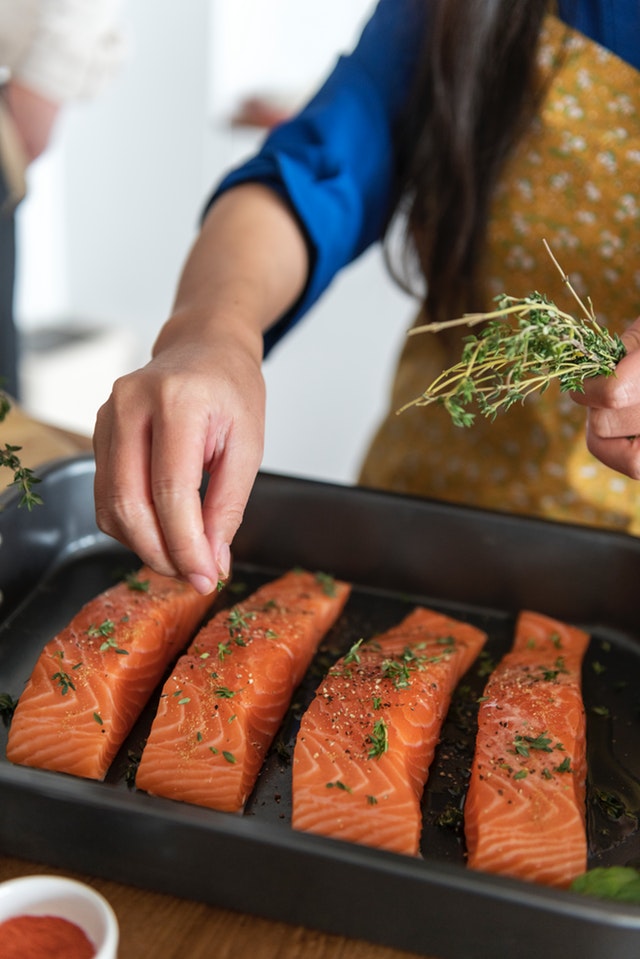 The Keto Diet, short for the ketogenic diet, is the latest trend in weight loss that many people are finding success with. People on it eat foods high in fat, high in protein, and extremely low in carbs. This causes the body to go into ketosis, in which fats and proteins are broken down for energy, which causes people to lose weight. In addition to weight loss, doctors recommend a modified Keto plan for people with certain medical conditions, notably epilepsy.
While the plan seems limiting in some ways, especially when it comes to going out to eat, you can still enjoy a large variety of vegetables and proteins, making fish and seafood a great option!
The Best Seafood and Fish for a Keto Diet
High in protein and with few to no carbs, if fish and seafood aren't in your dinner or lunch rotation, you're missing out! Here are some of the best choices that align with the Keto guidelines:
Salmon
A 100 gram serving of Atlantic salmon packs 13 grams of healthy fats, 20 grams of protein, and zero carbs! This fatty fish is a great source of omega-3 fatty acids which are essential in lowering blood pressure, preventing heart disease, and improving brain health. Best of all, this is a versatile fish that can be grilled, broiled, or baked and pairs well with a variety of seasonings, sauces, and spices.
Mahi-Mahi
Mahi-mahi has a sweet, mild flavor and a firm, smooth texture that holds up beautifully when baked, broiled, or grilled. A 100 gram serving only has one gram of fat, zero carbs, and an impressive 24 grams of protein. Like most fish, it is a great source of omega-3 fatty acids and can help stimulate your brain function due to a high DHA content.
Flounder
Flounder is a leaner fish, especially compared to salmon, having 70 calories, 2 grams of fat, and 12 grams of protein in a serving. Perfect for a light, Keto-compatible lunch, flounder is a flaky, delicate fish with a sweet taste. This is often the choice for people who don't prefer a "fishy" taste.
Bay Scallops
Another light lunch or dinner option are bay scallops. While they don't have the high fat content found in many Keto meals, they are perfect for pairing with a rich butter sauce. They're sweet, tender, and with 19 grams of protein per 100 gram serving, they'll fit right into your diet without feeling like you're making a sacrifice!
A Keto-Friendly Seafood Recipe
If you feel like enjoying a delicious dinner at home you can whip up in a flash, try this amazing recipe:
Skillet Salmon with Avocado and Basil
Ingredients
2 teaspoon

s coconut oil

1 ½ teaspoon

coarse kosher salt, divided

1 teaspoon

Italian seasonings

½ teaspoon

crushed red pepper

¼ teaspoon

ground black pepper

1 ½

pounds boneless salmon filet, skin removed

1

avocado

¼ cup

chopped basil

1 tablespoon

lime juice
chopped scallions, for garnish
Instructions
Heat oil in a large cast iron skillet over medium to high heat. Sprinkle three-quarters of a teaspoon of salt, Italian seasonings, red pepper, and black pepper on the salmon and lay it skinned side up in the hot oil.
Cook, undisturbed until brown and crispy on the bottom and the flesh is opaque about halfway up the side. (Usually four to six minutes, depending on the thickness of the filet).
Flip salmon and remove the skillet from the heat, allowing the salmon to remain cooking in the still-hot pan until done (Usually four additional minutes)
While the salmon cooks, peel the avocado, remove the pit, and mash it with basil, lime juice, and salt.
Serve salmon with the avocado blend on top.
recipe courtesy of Healthy Seasonal Recipes
Visit NC Seafood for Keto Friendly Meals
You may be thinking, "Does the best Calabash restaurant in Raleigh have Keto-friendly options?" and the answer is a resounding Yes! We have delicious, broiled seafood options including scallops, mahi-mahi, and flounder, and you can pair them with light, flavorful garden salads for a low carb meal.
Visit us at the State Farmer's Market and eat here or call ahead at 919-833-4661 and get it to go!