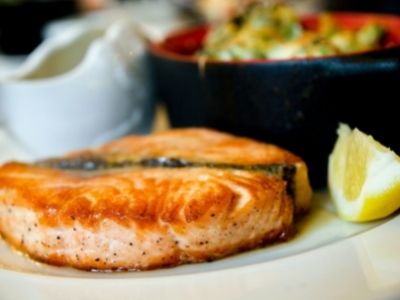 The Ketogenic, or Keto, Diet is a diet high in protein and fats and very low in carbohydrates. Seafood is great for people on the keto diet as it is a naturally lean meat which is high in protein and healthy Omega-3 and Omega-6 fatty acids. The keto diet is great for people looking to lose weight and can also cause significant reductions in blood sugar and insulin levels. With the lessened carb load, the body goes into a state of 'ketosis' and becomes extremely efficient at burning excess fat.
While it can be difficult at first to adjust to the keto diet and its limitations, you can still enjoy a variety of meals with vegetables and proteins, making seafood a great option!
The Best Seafood and Fish for a Keto Diet
High in protein and very few carbs, fish and seafood are perfect for those on the keto diet! Here are some of the best choices that align with the Keto guidelines:
Salmon
A 3.5 oz (100g) serving of Atlantic salmon has 21 grams of protein, 4.4 grams of fat, including healthy Omega-3, and absolutely no carbs. The fatty acid profile of salmon varies depending on whether it is wild-caught or farm-raised with farm-raised salmon being fattier. This fish is extremely versatile and can be grilled, broiled or baked. Salmon can be as extravagant or as simple as you like. An easy option is simply brushing the filet with olive oil and a sprinkle of salt and pepper.
Mahi-Mahi
Mahi-mahi has a sweet, mild flavor and a firm, smooth texture that can be baked, broiled, or grilled. A 100 gram serving of Mahi-Mahi has 19 grams of protein, and no carbs, but is slightly less fatty than other fish with just under 1 gram of fat. As with Salmon, Mahi-Mahi can be as dressed up as you want, but a great, easy option is prepared with a light, lemon, and garlic sauce.
Flounder
Another option is flounder which is a leaner fish, especially compared to salmon, with 12 grams of protein and 2 grams of fat per 100 gram serving. Flounder is a light and flaky fish with a delicate, almost sweet taste. This is a great option for people who do not prefer a "fishy" taste, but still want the health benefits that come with incorporating seafood into their diet.
Bay Scallops & Shrimp
Another light lunch or dinner option are bay scallops. While they aren't as fatty as other seafoods, they pack 19 grams of protein into a 100 gram serving. This makes them a great contender for a keto diet. Similar to scallops, shrimp provide 13 grams of protein, but also little of the healthy fats you can find in other options. One thing to be aware of with shrimp is their higher cholesterol level (125mg). It may be wise to add some variety to your seafood meals.
A Keto-Friendly Seafood Recipe
If you feel like enjoying a delicious dinner at home you can quickly prepare, try this salmon recipe.
Keto-Friendly Garlic Butter Salmon
Ingredients
1 lb. salmon fillet
4 tbsp. melted butter
1/4 c. freshly grated Parmesan
2 cloves garlic, minced
2 tbsp. freshly chopped parsley
Kosher salt and freshly ground black pepper to taste
Instructions
Preheat the oven to 350°. Line a baking sheet with foil, and oil lightly. Place salmon on top and sprinkle with salt and pepper to taste.
In a bowl, combine melted butter, parmesan cheese, garlic and parsley. Cover the salmon with this mixture and pat it into an even layer.
Bake for 25 minutes, or until salmon is cooked through. Broil the salmon an additional 2 minutes, until the top is golden brown.
Recipe Courtesy of Delish.
Visit NC Seafood for Keto Friendly Meals
You might be wondering if NC Seafood, known for our fried Calabash style seafood, has keto-friendly options, and to that we say "Of course"! We offer delicious broiled seafood options including scallops, mahi-mahi, and flounder, and you can pair them with light, flavorful garden salads for a healthy, low carb meal. Visit us at the State Farmer's Market and eat here or order online to get it to go!