There is no doubt that seafood is delicious on its own. But, what is just as important are the side dishes. Right? A delicious slaw or salad or baked bean dish enhances the party in your mouth and creates a unique meal experience. If you are looking for something besides just the ordinary, run-of-the-mill side dish to go with your seafood, here you go! We've put together some wonderful sides that complement your salmon, flounder, catfish, shrimp, lobster, or whatever your main entree is!
Fresh Vegetables
Before we get into our recipes, fresh vegetables need some attention. Especially with milder tasting fish like flounder, tilapia, or salmon, don't overlook the simplicity of having veggies as a side. Preparing asparagus, broccoli, bell pepper, carrots, or zucchini either grilled, steamed, or sauteed are wonderful options to accompany the fish.
Best Sides for Shrimp Cooked Any Way
There are so many ways to prepare shrimp, and all of them are delicious. From Calabash-style, boiled, broiled, blackened, grilled, and steamed, shrimp is versatile, easy, and quick! Some of our favorite sides to pair with shrimp fixed any way include:
Rice
Polenta
Macaroni
Pasta
Potato Salad
Asparagus
Coleslaw
Here are a couple of sides that we consider two of the best with shrimp.
Amish Macaroni Salad
Amish macaroni salad is a flavorful creamy pasta salad that accompanies shrimp really well. It's chocked full of flavor and so easy to make using hard-boiled eggs, onion, celery, red pepper, dill pickle relish, and mayonnaise (you can substitute with Miracle Whip is you prefer). It is a tasty side that you can use for other protein entrees, as well.
Ingredients
2 cups elbow macaroni
3 hard-boiled eggs
1 small onion (chopped)
3 celery stalks (chopped)
1 small red bell pepper (seeded and chopped)
2 Tbsp dill pickle relish
2 cups creamy dressing (mayonnaise or Miracle Whip)
3 Tbsp prepared yellow mustard
3/4 cup sugar
2 1/4 tsp white vinegar
1/4 tsp salt
3/4 tsp celery seed
Directions
Cook macaroni noodles according to package instructions. Set aside to cool.
In a large bowl, combine the hard-boiled eggs, onion, celery, red pepper, and dill pickle relish.
In a separate container, mix together the salad dressing, mustard, sugar, vinegar, salt, and celery seed.
Pour the dressing mixture over the vegetables. Add the macaroni and mix until well combined.
Cover the bowl and refrigerate for at least one hour and serve chilled.
Grilled Corn Salad
Grilled corn in the summer–is there anything better? Let's use that as the base for a lemony, crunchy salad that is bursting with color and great nutrition. This grilled corn salad has fresh zucchini, cherry tomatoes, and creamy feta cheese. This is also a great side with shrimp tacos!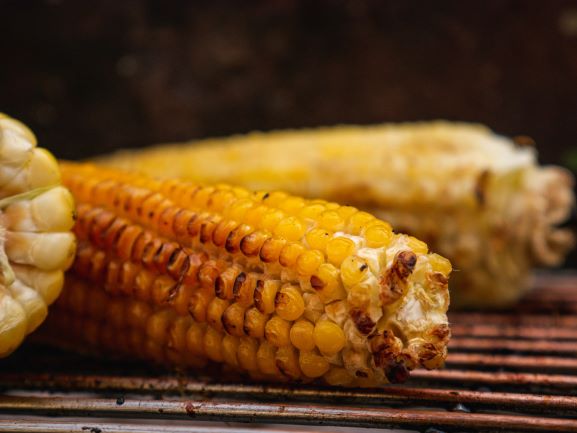 Ingredients
5 medium ears corn with husks on
2 medium zucchini
2 Tbsp olive oil
1 tsp salt, divided
1 tsp ground back pepper, divided
2 cups cherry tomatoes, halved
1/4 cup minced garlic
1 tsp lemon juice
1 Tbsp apple cider vinegar
5 medium basil leaves, minced
1 Tbsp chives, minced
1/4 cup crumbled feta cheese
Directions
Heat the grill on high and grill the corn with the husks on for 10-15 minutes or until the corn is tender. Keeping the husks on the corn prevents the kernels from getting tough. Rotate the corn halfway through grilling. If you like a char on the kernels, take it out of the husks after the corn is done and quickly char on the grill.
While the corn is grilling, slice the zucchini into long strips.
Brush both sides of the zucchini slices with some of the olive oil and sprinkle with 1/2 tsp salt and 1/2 tsp pepper.
Grill the zucchini for a few minutes on each side, until softened and charred with grill marks.
Dice the zucchini into 1/2 inch cubes.
Cut the kernels off the corn.
Whisk together the dressing ingredients: remaining 2 Tbsp olive oil, minced garlic, lemon juice, vinegar, basil, chives, and the remaining salt and pepper.
Toss the corn kernels, halved cherry tomatoes, diced zucchini, and dressing together in a large bowl.
Top the corn salad with feta cheese and more fresh herbs to your liking.
Sides for Salmon
The best sides for salmon are numerous. Here are a few we think you'll love:
Grilled asparagus
Herb roasted potatoes
Lemony herb couscous
Sugar snap peas
Brussels sprouts
Mediterranean chickpea salad
Rosemary Roasted Potatoes
Here is an easy take on potatoes you can try instead of a baked potato or french fries.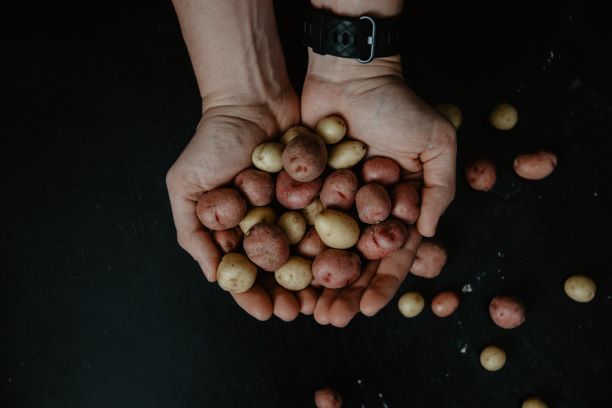 Ingredients
1/4 cup of olive oil
Two pounds of small potatoes (you can use different types of potatoes for interest)
One Tbsp minced garlic
One tsp salt
1/2 tsp pepper
3 Tbsp fresh rosemary
Directions
Preheat oven at 400 degrees Fahrenheit.
Slice potatoes in half and toss them with the olive oil, pepper, garlic, and rosemary leaves.
Line a baking sheet with aluminum foil and place potatoes on top. Make sure the potatoes are not touching and are sliced portion up.
Roast potatoes at 400 degrees for a full hour or until the skin begins to become very crisp and the tops are brown.
Honey Balsamic Glazed Brussels Sprouts
Brussel sprouts are trending right now, so we definitely wanted to include the recipe for this delectable side dish.
Ingredients
1 lb. Brussels sprouts, cleaned and halved
2 tbsp extra-virgin olive oil
1/2 cup balsamic vinegar
2 Tbsp honey
1 Tbsp dijon mustard
2 cloves garlic, minced
Kosher salt
Freshly ground black pepper
Directions
In a large skillet over medium heat, heat the olive oil.
Add Brussels sprouts with the cut side down and cook undisturbed, 3-4 minutes, until golden on the bottom.
Add 1/4 cup water and cover. Let Brussels sprouts steam until tender, about 3 minutes. If the skillet seems dry, add more water a tablespoon at a time.
Remove sprouts from skillet and set aside on a plate.
Add vinegar, honey, mustard, and garlic and whisk to combine. Bring to a simmer and cook until thick and syrupy, 6-8 minutes.
Return sprouts to the pan, toss to coat, and heat through, 2-3 more minutes. Season with salt and pepper. Serve immediately.
Why Not Leave the Seafood Cooking to Us?
We know we have just given you some delicious sides for seafood, but if you are rushed and don't want to cook, just let us do the cooking for you! Our Calabash seafood is the best in Raleigh! Look at our menu and either join us for dine-in service or place a take-out order online.