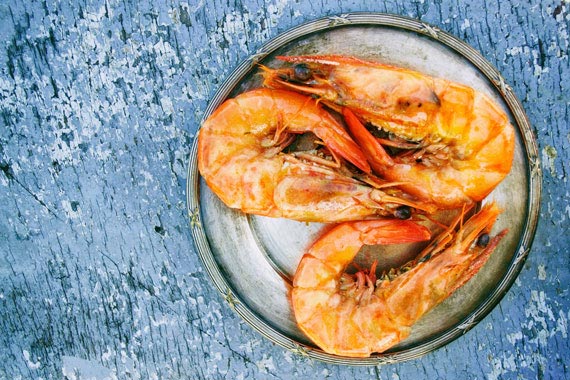 Seeking a healthy, high protein, low carb food to enjoy? Shrimp may be the answer. Whether or not people know the health facts surrounding shrimp, it's not understatement that we love it! How much so? Well, a typical American will eat roughly 4 pounds of shrimp annually. So we get it, people love it, but what about the nutritional value overall? What about shrimp's calories, protein and fat content, and other nutritional facts? If you find yourself asking "is shrimp good for you?" You've landed at the right place as our Raleigh Calabash seafood restaurant is here to breakdown the health and nutrition of shrimp.
This beloved shellfish packs a great amount of nutrition with a surprisingly low amount of calories, making them a generally healthy food. However, some people do voice concerns over cholesterol levels in shrimp, but we will dig deeper into this further on. But first, what are the numbers?
Shrimp Calories & Overall Nutrition Breakdown
Well, as stated earlier, shrimp is pretty low in the calorie department. For cooked shrimp, there are only 99 calories per 100 grams. Even better, roughly 90% of shrimp's calories are in the form of protein.
Here are other nutritional facts for this same serving size:
Carbs: 0.2 grams
Fat: 0.3 grams
Sodium: 111 milligrams
Protein: 24 grams
Cholesterol: 189 milligrams
Notice the low amount of carbs! Such a high protein, low carb food can be a great benefit to those trying to lose or maintain their weight.
There are also a wide variety of minerals and vitamins including:
Magnesium
Selenium
Niacin
Vitamin B12
Iron
Zinc
Phosphorus
Plus, there is ample supply of omega-6 and omega-3 fatty acids within shrimp, acids that might offer various benefits for your health too.
Shrimp is also packed with healthy antioxidants and iodine. Lots of people have iodine deficiencies so this food is a delicious way to increase your levels, after all, iodine is important for a healthy brain and thyroid.
So Is Shrimp Healthy or What? The Critics' Turn
Some people believe that shrimp's high volume of cholesterol can have negative health effects. It was commonly stated by experts for many years that high cholesterol foods were not healthy for the heart. However, the latest research illustrates that cholesterol levels are raised within your body as a result of the saturated fat you consume, not necessarily the cholesterol volumes in your diet.
Research studies have illustrated that people who eat shrimp on a regular basis don't have a higher risk of heart disease when compared to people who do not eat shrimp.
There are however some people who may have sensitivity to cholesterol in their diet, and should consult with their physician on their diet to make the best choices.
Our verdict is yes, shrimp is a generally healthy food all things considered. Such a high protein, low carb food which includes various healthy minerals and vitamins can be a great addition to your diet.
Just make sure that your personal dietary and health needs are taken into consideration when choosing how much shrimp to eat and how you want it prepared.
Enjoy NC Seafood's Delicious, Quality Shrimp!
So now the next time someone asks "is shrimp good for you?", you can surprise them with some factual information. You can also enjoy this high protein, low carb food at our Calabash seafood restaurant in Raleigh. We're proud to cook and serve up only high-quality shrimp straight from the coast of North Carolina off our menu. Please order online or join us for dine-in today.