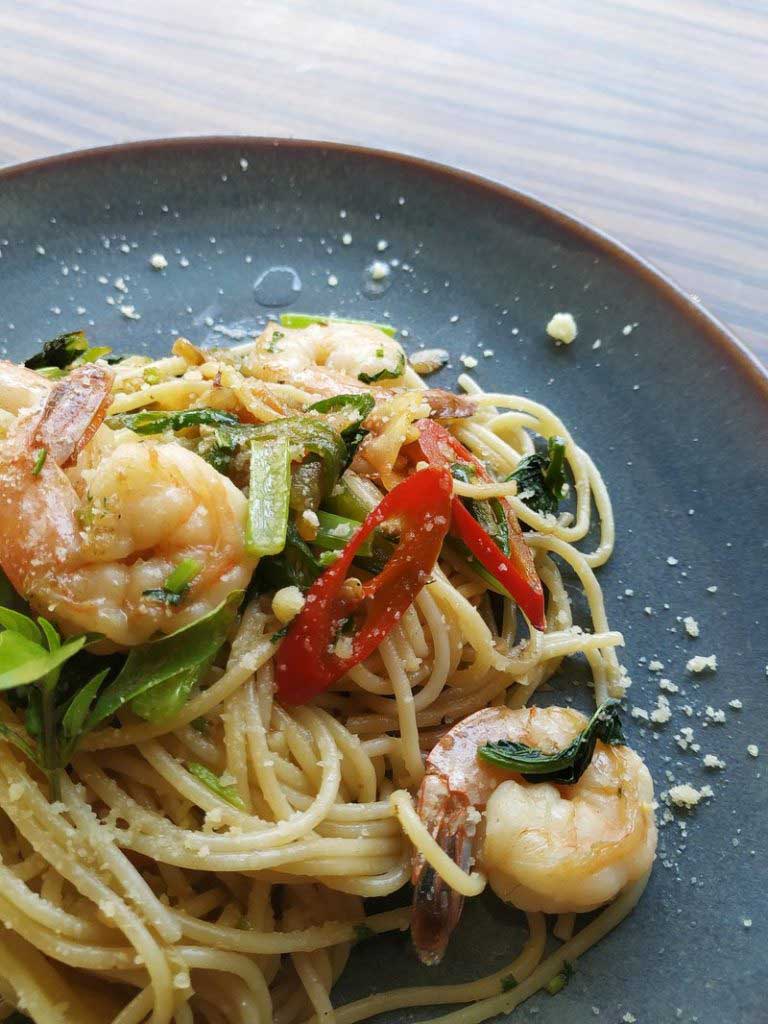 There are many delicious recipes for seafood. Maybe you're steaming a live lobster or doing a whole roasted salmon. You may even try serving up your own Calabash style seafood with a platter of fried fish. Now, what are you going to eat alongside it? You've got nothing to worry about on that score. We are sharing some side dishes for fish and seafood that will round out your meal perfectly.
Side Dishes for Fresh Fish – Baked, Broiled, or Grilled
Are you serving a lighter fish meal with a mild flavor for your main course? This could be broiled flounder or grilled salmon, for instance. If so, pair it with options like:
Steamed asparagus
A blend of grilled vegetables: Bell pepper, carrots, and zucchini along with a tasty dipping sauce
Roasted potatoes with olive oil and rosemary
A simple, creamy risotto
Fresh green beans and mashed potatoes
Add a little tartar sauce or parmesan cheese
These are all pretty simple. If you want something a little more inspiring, why not try one of these options?
Tilapia with Quinoa, Feta, and Cucumber
Quinoa and tilapia are both excellent sources of lean protein. This recipe is a simple, vibrant dish that is filling without being heavy.
You'll need:
1 cup quinoa
Coarse salt and ground pepper
2 1/2 teaspoons extra-virgin olive oil
1 pound boneless, skinless tilapia filets, divided into 8 pieces
3/4 teaspoon paprika
1 cup English cucumber (6 ounces), diced small
1/3 cup roughly chopped fresh dill
1/3 cup feta (1 1/2 ounces), crumbled
2 teaspoons fresh lemon juice
Instructions:
Bring quinoa, 2 cups of water, and 1 teaspoon of salt to a boil over high heat in a small saucepan. Once boiling, reduce to a medium simmer and cook until the water evaporates (usually around 15 minutes).
Transfer quinoa to a medium bowl, cover and let cool for 5 minutes.
In a large, nonstick skillet, heat 1 1/2 teaspoons of olive oil over medium-high heat. Pat the fish dry and season with salt and pepper, then sprinkle paprika over top. Place in the hot skillet.
Cook filets for about 2 minutes, then flip and cook for another two minutes or until opaque all the way through.
Stir diced cucumber, chopped dill, fennel, 1 teaspoon of olive oil, and fresh lemon juice into the quinoa and season with salt and pepper.
Divide the quinoa mixture among plates and top with slices of cooked tilapia.
Recipe courtesy of marthastewart.com
Best Side Dishes for Serious Seafood
If you're serving a seafood dish with a stronger flavor, you'll need to find something as a balance. Often a healthy side dish with a bit of acidity will work. This could be smoky bacon or the bolder flavors found in Asian or Mexican cuisine. These will stand up to stronger seafood flavors without overpowering them. For a delicious dish, consider:
A vibrant green cucumber salad with kale and arugula served with a lemon vinaigrette
Roasted Brussels sprouts wrapped with bacon
Baked into homemade, creamy mac and cheese (we're thinking lobster mac for sure!)
Fish tacos with lime, corn, poblano peppers, and sliced chorizo.
Grilled fish with whipped sweet potatoes and cauliflower rice
Garlic & Herb Linguine
This simple pasta would be perfect with cooked crab, shrimp, or scallops and you can prepare it in a flash!
You'll need:
4 ounces dried linguine (or you can use angel hair or spaghetti noodles)
¼ cup butter, melted
1 teaspoon minced garlic
1 teaspoon dried parsley
1 teaspoon seasoned salt, or to taste
Instructions:
Add a few tablespoons of salt to a pot of water and get it boiling. Add pasta and cook until firm, yet tender. Drain the pasta and move it to a large serving bowl.
Mix melted butter, garlic, and parsley in a small bowl, then drizzle over the pasta and toss to coat it, then add seasoned salt to taste.
Top with sauteed or broiled scallops, shrimp, or crab.
Recipe courtesy of allrecipes.com
Grilled Tomato Caprese Salad
A tomato salad is the perfect summer side dish. Add Mediterranean flavor to your favorite seafood and fish recipes on a sunny day.
You'll Need:
500g cherry tomatoes/vine tomatoes
2 tbsp olive oil
2 tbsp balsamic vinegar
salt and pepper to taste
For the Basil Dressing:
1/2 cup fresh basil leaves
1/2 garlic clove minced
2 tbsp olive oil
1-2 tsp fresh lemon juice
salt and pepper to taste
For the Caprese salad:
150g Fior di latte/Buffalo Mozzarella
1/2 fresh basil leaves
Instructions:
Pre-heat an outdoor grill or stovetop grill pan.
Drizzle the olive oil and balsamic vinegar over the tomatoes and season with salt and pepper.
Grill the tomatoes until they start to burn and char. Remove from the heat and allow to cool in a dish while you make the dressing.
To make the dressing, combine all the ingredients in a blender or food processor. You can use a hand-held blender too or chop everything by hand and blend until smooth.
To assemble, tear the mozzarella and place it on a large plate. Top with the grilled tomatoes, drizzling their resting juices over the cheese and tomatoes. Drizzle the basil dressing over the salad and add fresh basil leaves, then serve.
Best Sides for Calabash Seafood
Broiled salmon and sauteed scallops are great, but you can't go wrong with the crisp, delicious flavors of Calabash seafood. Steamed veggies and linguine aren't the best partners for fried fish. Instead, be sure to add these to your menu:
Hush puppies
Corn on the cob
Coleslaw
French fries or hash browns
4 Ingredient Coleslaw
This simple, creamy coleslaw is a snap to whip up. It will go well with your home-cooked Calabash seafood dinner.
You'll need:
1 14 oz package of shredded coleslaw mix (so much easier than grating your own!)
1/2 cup of mayonnaise
1 1/2 tbsp honey or sugar
1 1/2 tbsp of apple cider vinegar
Pinch of celery seed (optional)
Instructions:
Whisk the mayo, apple cider vinegar, and honey together in a bowl.
Pour over the coleslaw mix in a large bowl.
Toss it to coat it evenly and serve.
Lemon Rice Pilaf
This is the perfect recipe to serve with fish. The zesty lemon in the rice brightens the flavor. This easy recipe pairs well with any baked fish. Absolutely delicious!
You'll need:
1 cup uncooked jasmine or long grain white rice
2 tablespoons butter
1 cup sliced celery
1 cup thinly sliced onions
1 tablespoon grated lemon zest
1 teaspoon salt
1/4 teaspoon pepper
Instructions:
Cook rice according to package directions.
Meanwhile, in a large skillet, heat butter over medium heat. Add celery and onions; cook until tender.
Add rice, lemon zest, salt, and pepper; toss lightly.
Cook until heated through.
Recipe courtesy of taste of home.com
Get Your Next Seafood Dinner to Go
If you want a broiled salmon dinner or freshly fried Calabash seafood, but you don't want to go to the hassle of fixing it yourself, let us do the work for you! We are proud to serve the best Calabash seafood in Raleigh! View our menu, join us for dine-in service, or place a take-out order online.