Nutritional advice has never been so accessible – and so confusing – as it is today. Between social media overload, constantly shifting influencer opinions, diet fads and so-called experts, it can be nearly impossible to know just what advice you can trust. There are some pieces of wisdom, though, that have been time-tested and scientifically proven to bring benefits.
For hundreds of thousands of years, people have counted on seafood to provide some of the most important nutrients and minerals in their diet- and while the amount and types of seafood vary from town to town and country to country, many experts around the world agree: Eating fish and other seafood twice a week is a vital part of a healthy diet.
Why It Is Important To Add Seafood To Your Diet
The benefits of eating fish range from improved physical and mental health to a more colorful dinner plate. Here are some of the most convincing reasons to add seafood to your diet twice a week.
Seafood is a Great Source of Protein and Other Nutrients
Protein is a buzzword these days, with plenty of products promising to deliver a on the daily recommended 46 grams for women and 56 grams for men. While you can count on a supplement or a smoothie, you can also get your protein the old-fashioned way: making seafood a regular part of your diet.
A three-ounce serving of fish can contain up to 26 grams of protein, taking care of half of your daily recommended serving. Tuna is an especially impressive choice, with a 100-gram serving offering around 30 grams of protein.
Fish is also a substantial source of omega-3 fatty acids, vitamin A, and B vitamins. Those omega-3 fatty acids are important for the function of the brain and nervous system, and have been linked to a reduction in inflammation in blood vessels and joints, a lower risk of blood clots and cardiovascular disease, and improved cognitive function. They can even reduce triglyceride levels to help lower blood pressure when consumed regularly.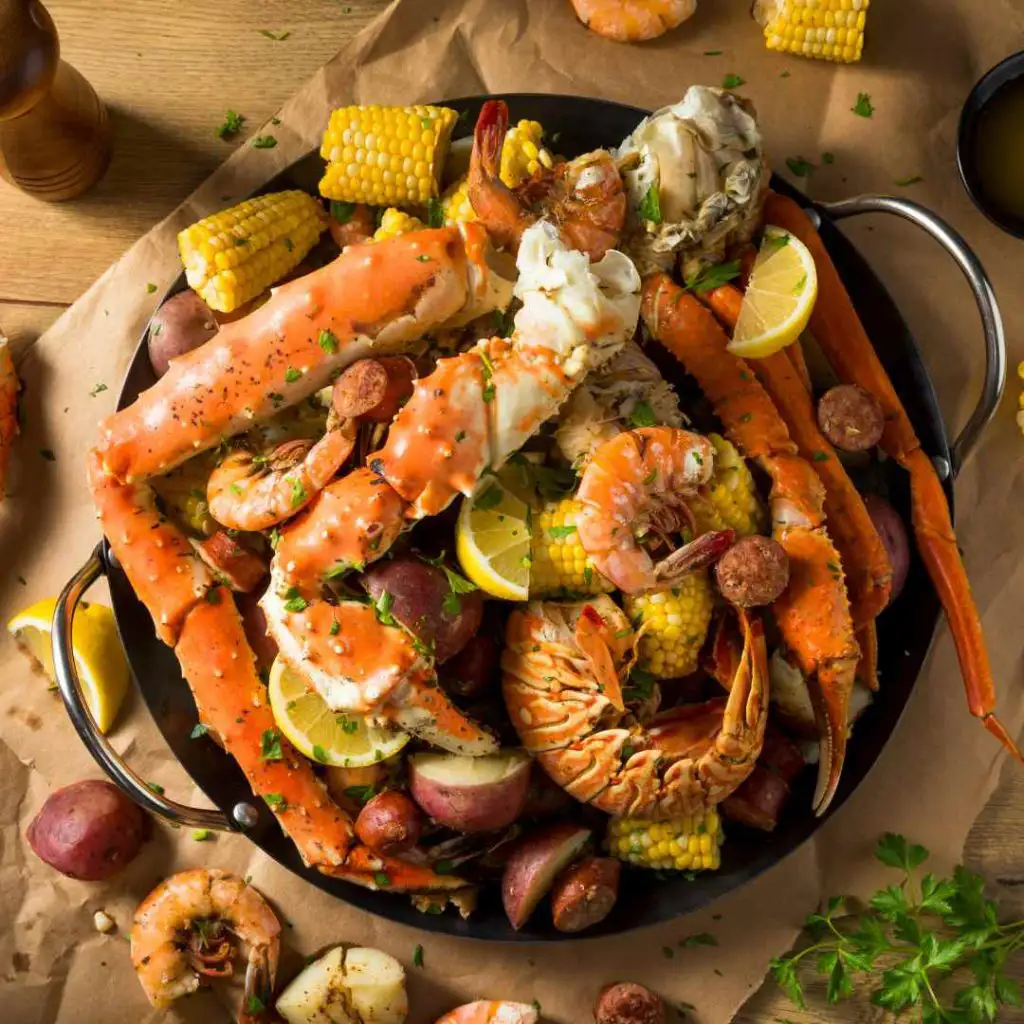 The body cannot make these omega-3's from scratch, instead they must be supplied by outside sources. Some people opt for fish oil supplements for these benefits, but adding seafood to your diet is also a quick, easy, and more delicious way to get the same results.
As if those qualifications weren't enough to convince a skeptic of their superfood-status, many fish are also a great source of zinc, iodine, magnesium, and potassium.
Seafood Is Low in Saturated Fat and Cholesterol
Too much cholesterol can be a risk factor for coronary heart disease, sudden cardiac death, congestive heart failure, and heart attack. For those looking to lower their cholesterol levels- and therefore lower their risk of cardiovascular disease, making sure to consume foods low in saturated fat is recommended. This is because foods high in saturated fats have been linked to high LDL cholesterol.
Both lean fish and fattier fish tend to be lower in saturated fats, so they are a great addition to a low-cholesterol diet. Plus, those omega-3 fatty acids can help reduce inflammation in heart and blood vessels for improved heart health.
According to the American Heart Association, eating approximately one to two 3-ounce servings of fatty fish a week lowers the chances of dying from heart disease by 36 percent.
There are Many Different Types of Seafood to Choose From
If you're looking to up your fish consumption, you'll find that there are dozens of different types and flavors of fish you can cook, and almost as many ways to prepare them.
If you like a milder fish that will pair well with other foods and flavors, try:
If you prefer a stronger flavor, you might prefer:
And there's plenty more options available even for those who don't like fish. Shrimp, crab, lobster, oysters, mussels, and more are all valuable sources of nutrients that can be easily added to soups, stews, pastas, salads, and more. A quick salad of albacore tuna for lunch, fish tacos for dinner, or a sushi restaurant when you don't feel like cooking – there are plenty of options whether you want to keep it simple or make it fancy.
Seafood is a Healthy and Easy Way to Add Flavor to Your Meals
Expanding your diet to include seafood also means there are suddenly so many ways to make a meal that's both healthy and flavorful- all while getting at least two servings recommended by experts.
Here are some delicious and healthy recipes to get started:
Lemon baked tilapia
Ahi tuna poke bowl
Mahi fish tacos
Seafood gumbo
Tuna melt
Grilled halibut
It is also easy to cook fish at home. Most fish takes just a few minutes to cook, and even less time to prepare.
What Is The Proper Amount of Seafood To Consume
Though many Americans eat fish regularly, there are still some common misconceptions and concerns regarding seafood consumption. Public health concerns include the levels of mercury present in some fish that can build up with excessive consumption and potentially causing mercury poisoning. Some also worry about other harmful chemicals fish may absorb from he water around them and the food they eat.
While many agree that the benefits of eating fish outweigh the risks, especially when only consumed twice a week, there are ways to lower that risk even further. The best way is by looking for low-mercury fish, like:
Catfish
Cod
Salmon
Tilapia
Shrimp
Whitefish
This can be especially important to keep an eye on for women who are pregnant, who, according to the FDA, should consume between 8 and 12 ounces per week of low mercury fish.
Many Americans eat seafood about once or twice a week anyway, in 4- or 6-ounce servings. According to the FDA, your total seafood intake should be between 8 and 12 ounces a week.
Enjoy Tasty Seafood Dishes at NC Seafood Restaurant
If you're looking for a quick and delicious way to get the recommended amount of seafood in your diet, NC Seafood Restaurant in Raleigh has plenty of options. Order online for take-out or swing in and grab a seat in our dining room.