Did you know if you enjoy eating oysters, you can shuck oysters and prepare them at home anytime with the right tools and tips. Whether you want to put them out for a party or have them for yourself, you can buy live oysters from your local fish market and prepare them at home with ease. So if you are ready to sit back and enjoy some oysters but you're not sure where to start, we've got you covered.
Our seafood experts here at NC Seafood are going to give you some tips on to select oysters, prepare them, and show you how shucking oysters isn't as hard as you may think.
Why Oysters?
Oysters are not only delicious, but they are healthy for both humans and the environment. Oysters have been proven to provide high levels of brain and heart-boosting omega-3 fatty acids and iron to help the human body function. Oyster farms in the ocean have minimal impact on the environment and actually clean the water they are in.
Where are North Carolina Oysters Found?
Raised and caught in North Carolina, oysters are a cultural heritage of the North Carolina outer banks and Crystal Coast. For those interested in Oysters, they are easily found and located deep down in the mud of the North Carolina crystal sounds of the Albemarle and Pamlico Sound.
Currently, hundreds of thousands of bushels of freshwater oysters are caught in wildlife and brought to the North Carolina shores for people to eat. This number is a dramatic drop from the turn of the century when North Carolina shores were producing two million bushels a year! Unfortunately, due to pollution and over harvesting, these numbers have declined over time.
How to Choose the Best Oysters
Like most seafood, oysters are not created equal. They may have two shells but some selections are a much higher quality and present fresher than others which is why you want to know how to pick the best selection of oysters to serve.
In order to achieve this, here are a few tips in mind the next time you go to choose your oysters:
Prime Oyster Season is Important
Although oysters are available year-round, the best time to buy oysters is between September to April every year.
Surveying For the Freshest Oysters
Many seafood consultants agree that the freshest oysters have the tightest seal. Which means choosing a shell with a tight seal will offer more freshness when it's finally opened to eat.
Oyster Size Does Matter
Sometimes size really does matter, especially when it comes to oysters. For the best selection, you want ones that are easy to open and worth it inside. So when looking for oysters, finding the bigger oysters tend to mean the meat inside is also going to be bigger. Ultimately, smaller oysters may not be worth the effort to open.
What is the Difference Between Shucked and Unshucked Oysters?
If oysters are unshucked, that means they have not been opened so they still have both their bottom shell and their top shell. When found like this, they can last up to two weeks out of the water from the time they are harvested. It is important you know how to properly store oysters in a container in a cool spot. But if you're really looking for the freshest oysters, you won't want to wait that long. Eating oysters soon after you get them can ensure their freshness. On the other hand when oysters are shucked, the meat has already been taken from the shell. This takes some handy work with a knife, but it's all worth it in the end. Shucked oysters can be eaten raw or cooked in a variety of different ways.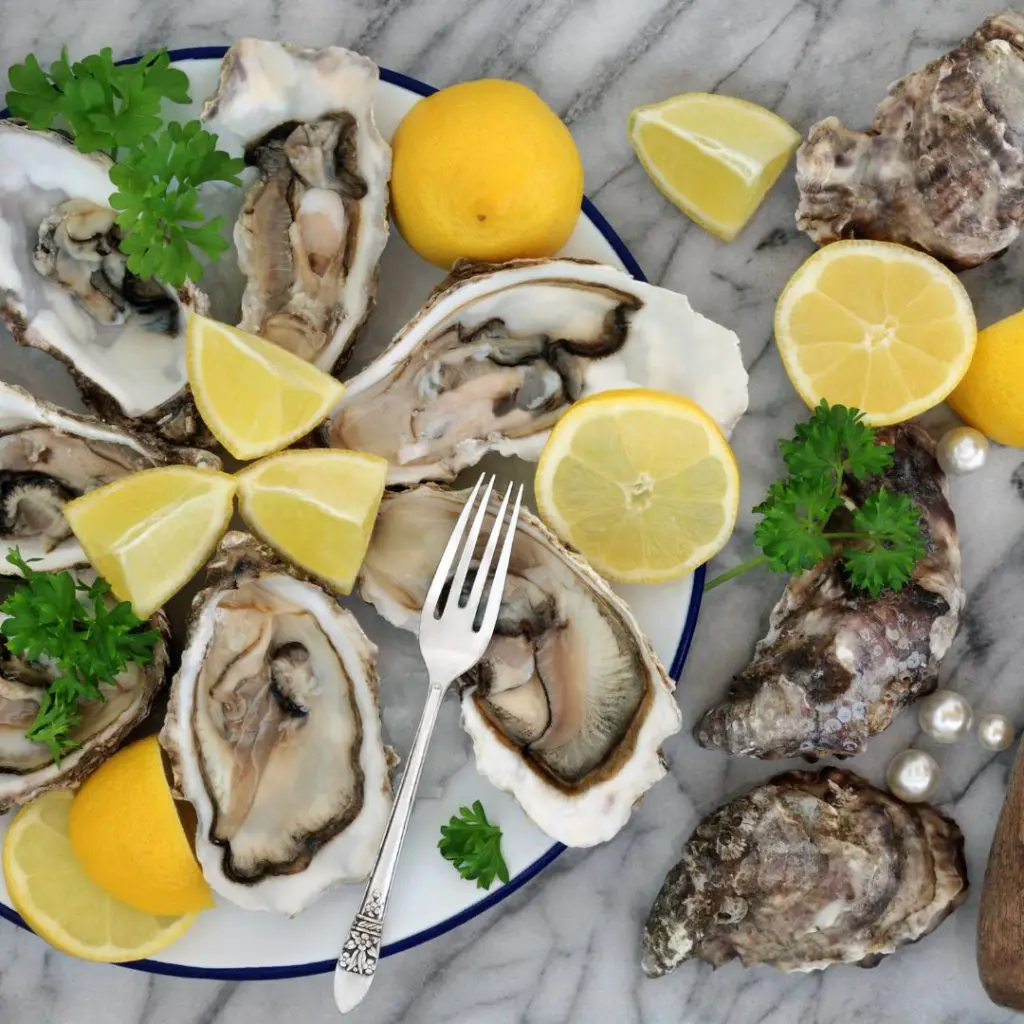 How to Shuck an Oyster
Shucking oysters takes some practice, but once you get the hang of it, you'll be opening oysters and enjoying them all the time!
Check & Clean Your Oysters
First things first, make sure the oysters you have selected are fresh. Keeping them on crushed ice is an easy way to do that. Before you start the process, it is a good idea to check to see if there are any cracks on the shell or any exposed meat. If any part of the oyster is out of the shell, throw it away because it's probably spoiled.
Next, you'll want to scrub the oyster shells and run them under cold water. Be sure to remove any sand or other debris. At the end fo the process you want your oysters as clean as possible.
Open the Shell
Now that the shell is clean using a clean kitchen towel, oven mitt, or an oyster glove, hold the oyster and press your hand firmly against the outer shell. Most oysters have a cupped side and a flat side, so you will want to hold the oyster with the flatter side up. The cupped side will hold the oyster and its liquid while you shuck it. If you do everything right you don't want to spill any liquid out.
Next, look for the oyster's hinge. You'll want to get the hinge open when inserting your knife tip at the hinge or near it. Get the knife into the hinge and pop it open while you gently twist the knife blade. You may have to slightly wiggle your oyster knife until the shell seal is broken or press to pry open the shell a bit.
In this process it is important to be sure to use an oyster shucking knife to shuck oysters, not a regular kitchen knife blade. An oyster knife is a special dull-pointed, thick-bladed knife that is used to pry the back hinge of the shell open and separate the body from the shell. This will make the job easier and protect you from getting hurt.
Expose the Shell
Now you want to work on exposing the shell. You will want to slide the knife between the top and bottom shells. Once the shell is cracked open, fully expose the shell completely to free your oyster! Be sure not to remove any of the liquid inside from the shell. Return the shell to the crushed ice bed.
Once you have one done, it's time to do more to create a platter of tasty shucked oysters to enjoy! Shucking oysters does get easier once you've done it a couple of times.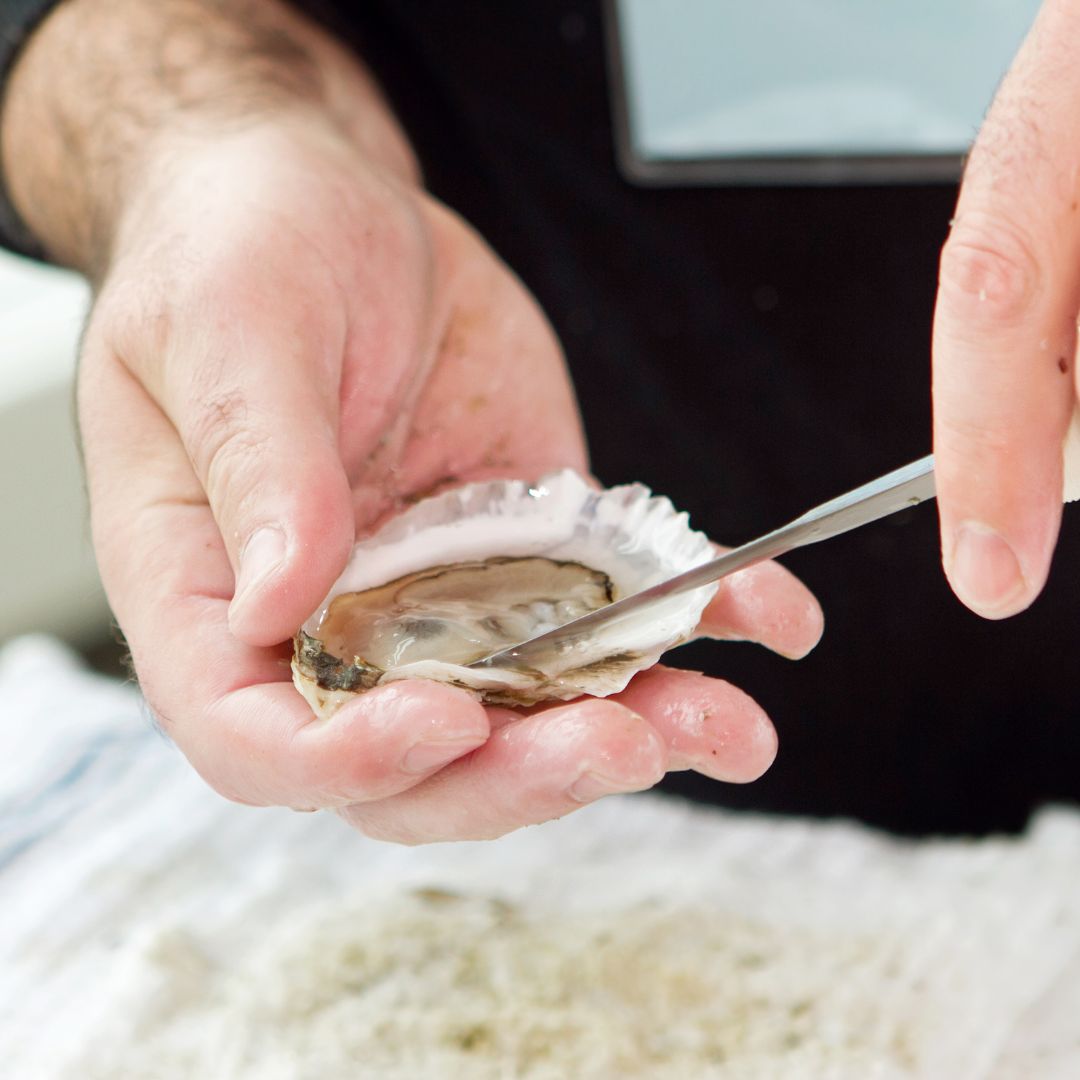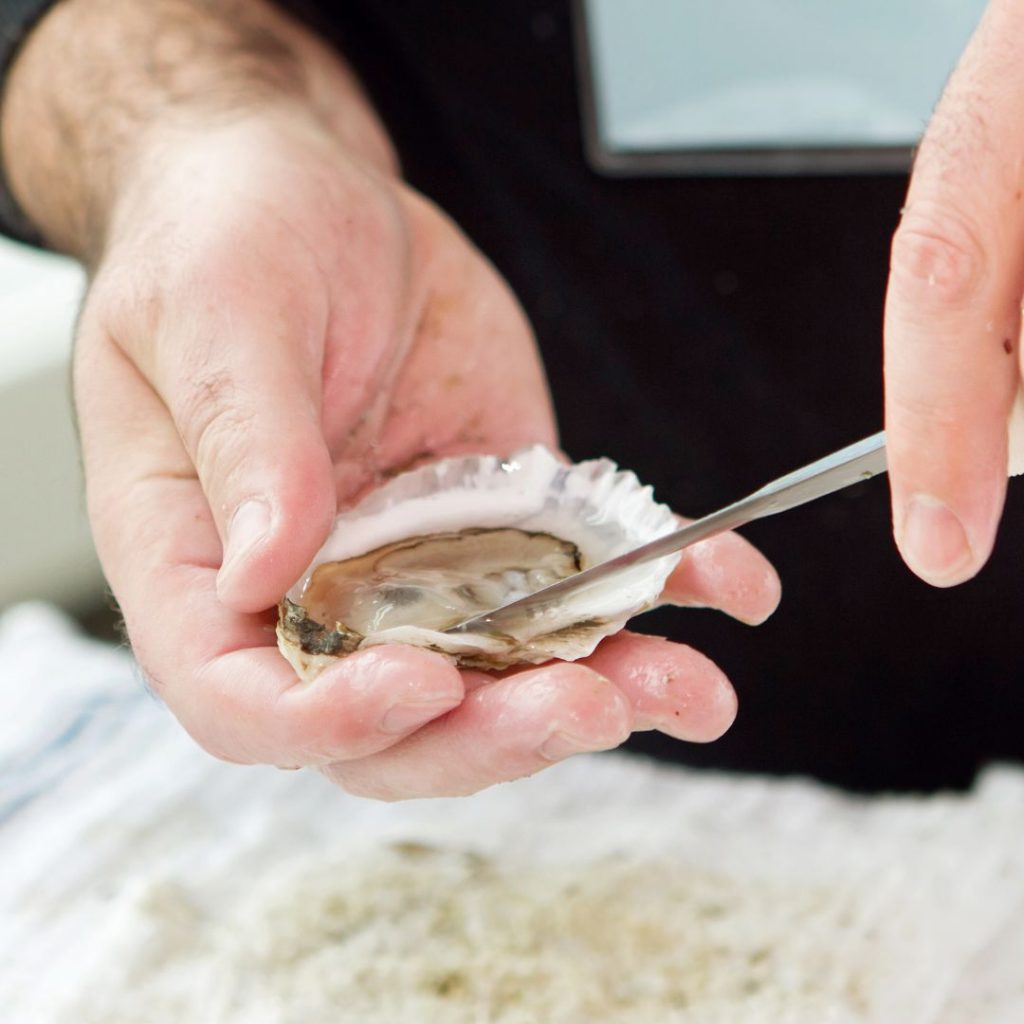 How to Eat Oysters
Many people enjoy eating raw oysters as soon as they're shucked. To do this, try squeezing some fresh lemon juice over the oyster. This leaves a delicious and fresh taste with every bite. You can also use cocktail sauce or a savory vinegar shallot mix if you desire a stronger flavor profile. The vinegar will highlight the crisp, juicy flavors of the oyster for a more refreshing taste.
If you ultimately decide after trying them that you don't like raw oysters, there are several other ways to eat shucked oysters. You can dip them in melted butter or cook them in a variety of ways. If you're cooking oysters, you can choose to grill them, broil them, bake the, or fry them. You can find recipes for pretty much any way you want to serve them!
Enjoy Fresh Oysters at NC Seafood Restaurant in Raleigh!
Don't worry if you don't want to shuck oysters at home and prepare them, NC Seafood will do the work for you! We are pros when it comes to shucking oysters and cooking them in our perfectly golden brown calabash style coating.
NC Seafood Restaurant in Raleigh near Garner and Cary offers calabash-style fried oysters that are flavorful and tasty. If you are in the area, take a look at our menu and see what style works best for you. Order online for take-out! We can't wait to see you!