Do you and your family feel that your Christmas Eve or Christmas Day dinner ideas have become monotonous or too predictable? If this is how you feel then maybe it's time to incorporate some new traditions for the holiday season. A great way to do this is by learning new ways to include seafood into your Christmas traditions, such as bringing seafood or fish dishes as one or many courses that will hit the dinner table.
While this may seem out of the normal, many generations of Italian-American families have practiced the Christmas tradition of serving fish as families gather together. But the good news is seafood recipes are not limited to just the Italian classics. In this blog NC Seafood Restaurant hopes to inspire you and your family by giving you some ideas for how to reinvigorate your Christmas dinner this year.
Continue reading for great recipe ideas for Christmas as well as some new ways to eat fish any holiday season.
Why is Seafood a Good Choice for the Holiday Season?
For many American families, the Christmas Eve tradition of dinner planning means serving a turkey, ham, or roast. These large cuts of meat not only take all day to cook but can become boring, particularly right after celebrating Thanksgiving when eating meat is the norm and you've likely made the exact same or similar meal.
Incorporating seafood into your dinner menu for the Christmas holidays allows for versatility throughout the holiday season. Also more and more Americans are eating fish and seafood due to the nutritional benefits, the delicious and delicate taste profiles, and the various types and ways fish dishes can be prepared. The most common way we have seen seafood infused into Christmas is by including seafood in a Christmas Eve dinner. Which allows you to build taste profiles you have not served in the past, making way for new family traditions and a new perspective on your holiday feast.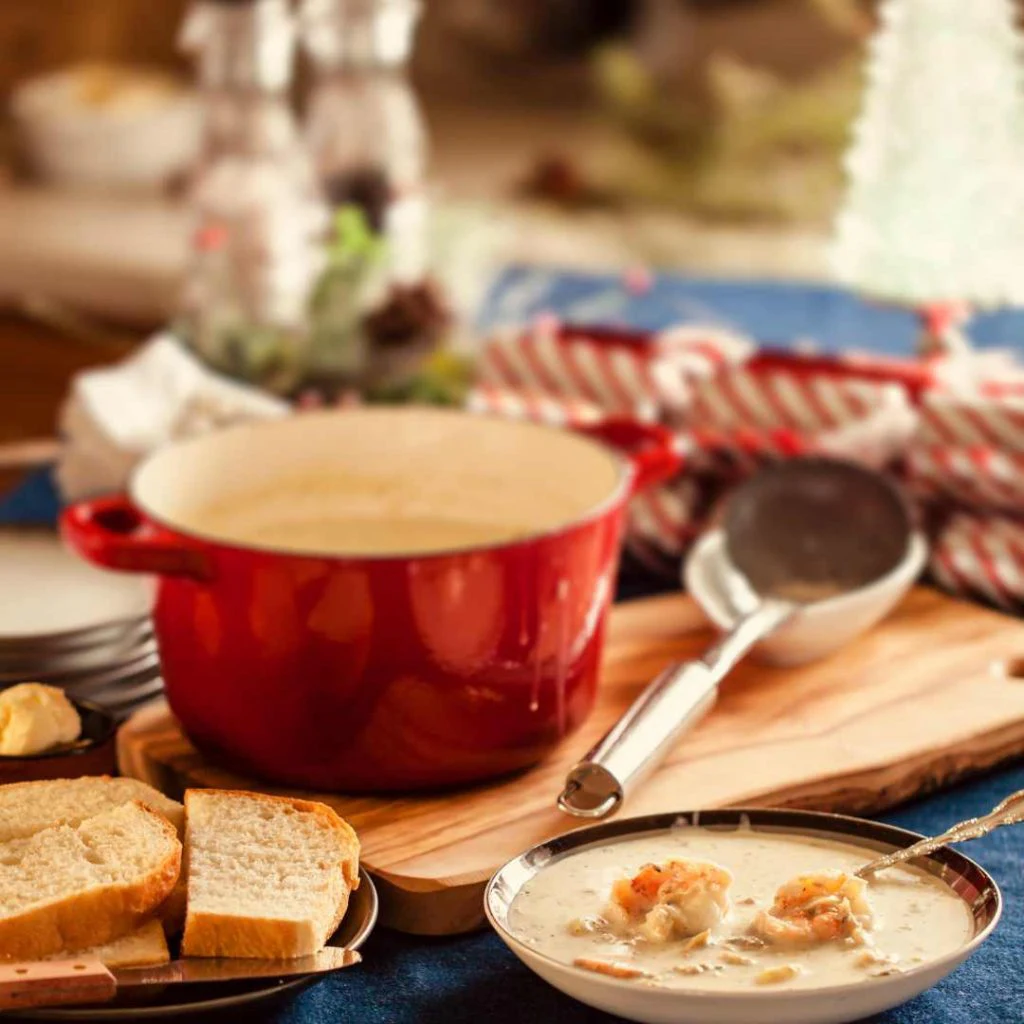 Five Ways to Start New Seafood Food Traditions at Christmas
Christmas and other holidays are a time to spend with your family and loved ones. It's also a time for giving and showing gratitude for the things and people around us- however, we would all be lying if we didn't say one of the things we look most forward to during the holiday season is the amazing food served at our tables.
Let's explore five great ways to include seafood and fish dishes into your holiday food traditions.
#1 – Include Seafood Appetizers and Small Bites
Sometimes suggesting a change to our family members is met with resistance, particularly when it comes to holiday menu planning. There's always someone who will show great disappointment if their tried and true favorite dishes are missing, so instead of just replacing dishes we encourage you to try with smaller introductions. Just because you plan to serve that baked ham or turkey, as usual, does not mean you can't find inventive ways to serve fish or other seafood.
In these cases consider serving seafood in the form of side dishes, appetizers, small bites, and seafood platters. If this is not something you are familiar with, try reaching out to your local seafood restaurant. At many restaurants you can pre-order boiled shrimp served with cocktail sauce, boiled crawfish, or smoked salmon to display alongside other snackable items. Or, you can explore a few new recipes to your holiday cooking repertoire. We are sharing a few of our favorites below;
Seafood Appetizer and Side Dish Recipes
Warm Crab dip
Everyone loves a nice, warm, comforting dip for Christmas dinner snacking. Including the sweet crab mixture with sour cream and cream cheese, baked until bubbly and golden brown and served with an assortment of crackers is the perfect way to sneak some seafood into your Christmas meal.
Ingredients
3 cans of drained lump crab meat
1 8 oz. package of cream cheese
1 cup of sour cream
1/2 cup shredded cheddar cheese
1 tbsp. lemon juice
1 tsp. ground mustard
1 tsp. Old Bay seasoning
1/8 tsp. paprika
1/8 tsp. garlic salt
Directions
Set oven to 325°
Mix cream cheese, sour cream, lemon juice, Old Bay, garlic salt, and ground mustard into a bowl.
Carefully fold the crab into the mixture.
Grease a pie pan or 9″ baking dish and transfer the mixture into it.
Top with shredded cheddar and paprika.
Bake between 20-25 minutes or until bubbling.
Smoked Salmon Deviled Eggs
Deviled eggs are one of those staple appetizers that many American, Italian American, and Latin-American families love to include in their holiday festivities. By including smoked salmon in your deviled egg mixture, you are able to include a seafood twist on a first-course dish.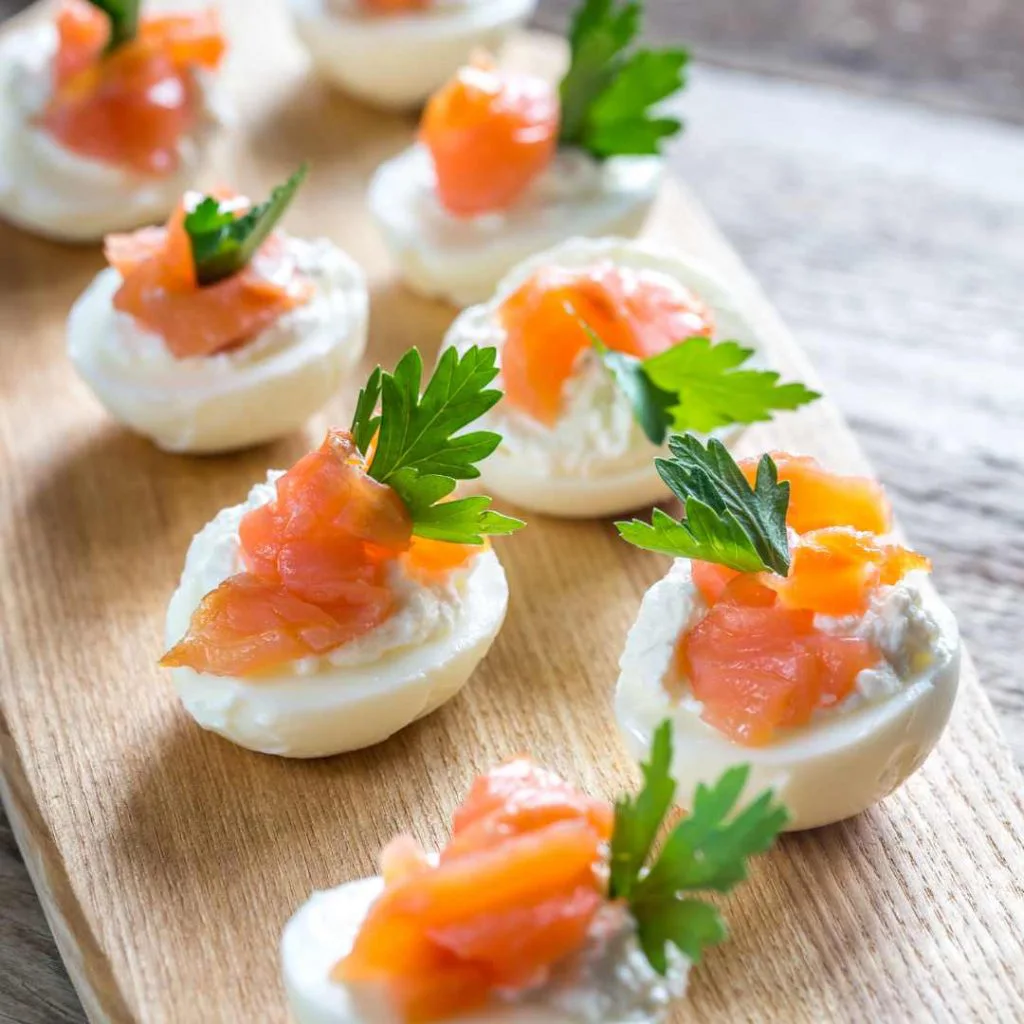 Ingredients
16 hard-boiled large eggs
4 oz. of softened cream cheese
1/3 cup mayonnaise
2 tablespoons fresh dill
1 tbsp. finely chopped capers
1 tbsp. lemon juice
1 tsp. horseradish sauce
1 tsp. yellow mustard
1/2 tsp. ground pepper
3/4 cup flaked smoked salmon meat
Directions
Cut hard-boiled eggs lengthwise in half, removing yolks and putting them into a bowl, and setting aside whites that will be used as the vessel for the egg mixture.
Mash together the egg yolks, cream cheese, mayo, capers, lemon juice, horseradish, mustard, ground pepper, and dill.
Fold in the flaked smoked salmon.
Refrigerate mixture till ready to serve.
Fill the empty egg whites with a spoonful of the mixture, sprinkling some reserved dill on the top, and serve immediately.
Spicy Shrimp Salsa
A lot of people think of seafood as a time-consuming dish idea that you have to stand over while preparing. This spicy shrimp salsa dish is easy to make ahead of time and be refrigerated until it is time to serve your appetizers as your guests arrive for Christmas Eve dinner. Having a kick of heat with the tender, sweet shrimp is a great way to wake up the palate and include shellfish into your holiday tradition.
Ingredients
1/2 lb. peeled, deveined, and chopped cooked shrimp.
1 lg. chopped tomato.
1/4 cup finely chopped onion.
1 1/2 tsp. of finely chopped and seeded jalapeno pepper.
3 chopped radishes.
1/4 cup minced cilantro, fresh.
2 tbsp. lime juice.
Directions
Combine all ingredients and refrigerate until serving. Serve with tortilla chips.
#2 – Replace a Meat Dish with Seafood
If you and your family are feeling bolder and more experimental this Christmas season, try your hand at fish and seafood dishes to make up the main protein of your Christmas dinner. There are plenty of easy-to-prepare types of fish that make a perfect fish course for you and your loved ones.
It doesn't matter whether you are trying to eat more fish and less red meat, you have pescetarian guests, or you are looking to include heart-healthy fish dishes that are packed with omega-3 vitamins and nutrients of healthy fats, we have some great recipes to share with you so you are not weighed down by a heavy meal this holiday.
Main Dish Recipes with Fish and Seafood
Whole roasted red snapper
We know it might appear intimidating to cook a whole fish, but truly cooking and serving a fish like red snapper whole not only respects the integrity of the fish's taste and flavor, but makes for a much simpler preparation than dealing with filets. Serve this dish with roasted potatoes and mixed roasted vegetables for an easy Christmas dinner seafood recipe.
Ingredients
1 whole red snapper (cleaned, gutted, scaled, and trimmed).
1 chopped shallot.
3 chopped garlic cloves.
1 1/2 cups flat-leaf parsley, chopped.
1 tbsp. fresh thyme sprigs.
1 1/2 tsp. lemon zest
3/4 cup olive oil.
1/2 tsp. red pepper flakes.
1 lb. gold baby potatoes.
1 diced red onion.
kosher salt.
lemon wedges for serving.
Salmon Wellington
A great twist on a beef dish classic, taking a salmon fish and cooking it into a puffed pastry with an herb and mushroom mixture is the exact kind of hearty main dish we expect to eat on Christmas day. Your family will be impressed with your culinary abilities, yet all the preparation for salmon wellington can be done prior to your guests arriving, giving you more time to enjoy the evening with the people you love.
Ingredients
2.2 lbs. skinless, boneless salmon filets.
2 tbsp. unsalted butter.
2 chopped shallots.
2 1/2 cups chopped mushrooms.
2 tbsp. chopped parsley.
2 tbsp. chopped thyme.
2 sheets of frozen puff pastry.
1 tsp. extra virgin olive oil.
Directions
Heat oven to 400°.
Sautee mushrooms, herbs, shallots, butter, and olive oil in a pan. Set aside.
Line a pastry sheet with parchment paper, imprinting your fork into the pastry to make little holes.
Bake one pastry sheet for 20 mins. until golden brown, take out of the oven and let cool. Remove the remaining pastry sheet from the refrigerator.
Spread half the mushroom mixture over the cooked pastry sheet, not spreading all the way to the edges, leaving a 1 1/2 inch border.
Place salmon on top of the mushroom mixture, and spread the remaining mushroom mixture on top of the salmon.
Pull the 2nd pastry sheet over the top of the salmon, and over and around the sides.
Brush the top of the pastry with melted butter and sprinkle with sea salt and chill for 30 minutes.
Remove from the refrigerator, and bake for 30-35 minutes.
Allow salmon wellington to rest, then slice into servings.
#3 – A Feast of the Seven Fishes
The feast of the seven fishes is an Italian American tradition where seven different types of fish are served on Christmas Eve. This tradition is certainly a feast of fish courses and leaves a lot of possible seafood options to mix together for this epic meal.
The seven courses typically are used to represent the birth of baby Jesus, and as southern Italians call it, La Vigilia, or the Vigil, celebrates this new life as a Roman Catholic custom. Many families use the seven fishes to represent the seven sacraments, the seven deadly sins, the seven virtues, as well as the seven days it took Joseph to arrive home after Jesus was born.
However, you certainly do not need to be Catholic or Italian to include the feast of the seven fishes in your holiday traditions.
Consider adding these seven fishes to your feast:
Cod in a tomato sauce stew.
Fried seafood platter.
Pasta con Vongole.
Sea bass in a white wine sauce.
Italian cioppino.
Shrimp Primavera.
Grilled swordfish.
#4 – Celebrate Cultural Seafood Dishes
Furthermore, Italy is not the only culture that celebrates seafood largely through its holiday dinners. You can opt to replace meat-heavy meals with lighter seafood-based dishes that come from Poland, German, Norwegian, and Swedish roots.
Northern European and Scandinavian countries heavily rely on picked varieties of fish like pickled herring that can be served with crackers as a dip. You can even serve pickled fish on cod or shrimp cakes that are lightly pan-fried and crispy for a double dose of delicious seafood flavor. From seafood stews, seafood pickled fish, and pan-fried fish cakes to salmon and mussel cream soups and salty baked whole fish, there is always something unique and new to try when it comes to seafood from other cultures.
#5 – Cater Your Holiday with a Seafood Feast
When all else fails, no one says it's a requirement to cook your own food this Christmas Eve, Christmas Day, or any other holiday. So instead of working hard in the kitchen when everyone else is socializing and spending family time together, contact a local seafood restaurant for catering take-out services this holiday season.
How NC Seafood Restaurant Can Serve You this Christmas
Looking for great new recipe ideas or a delicious place to order out for Christmas Eve?
NC Seafood Restaurant is thrilled to offer you the fresh fish ingredients or fully prepared Calabash style seafood dishes you need for the upcoming Christmas holiday. Call us at 919-833-4661 or place an order online to allow us to help you take the dinner course off your "to-do" list this Christmas.