If you are following a healthy keto diet, you know that it can be a challenge to come up with new, exciting dinner ideas that create the right balance of nutrients to meet your goals. So when planning a keto-friendly dinner, you want to be sure you are getting enough healthy fats and proteins.
Week after week chicken, steak, and pork dinners can tend to get boring if you are eating them multiple times a week. But the good news is when it comes to fish as your source of protein, there are tons of options. However, there are many different levels of quality fish and seafood that are high in protein and have the essential nutrients you need to create versatility in your keto meal planning.
The unknowns of seafood can be scary, which is why NC Seafood Restaurant of Raleigh has put together the ultimate guide to keto-friendly fish choices for any meal.
How Does Ketogenic Diet Work?
The ketogenic diet commonly called the "keto diet," is a low-carb, high-fat diet that offers tons of nutritional value and health benefits. This occurs by significantly lowering your carbohydrate intake and replacing them with healthy fats, putting your body in a metabolic state called "ketosis."
This is beneficial to an individual because when your body is in ketosis it becomes increasingly efficient at burning fat for energy. In other words, rather than using carbs to fuel your body, you substitute those foods with increased fatty meats and healthy fats that fuel your body instead.
The result of following a keto diet can be weight loss, reduced cholesterol levels, and lowered blood pressure levels. Keto-friendly foods like fish and seafood, when paired with increased levels of healthy fats and a low-carb diet can reduce inflammation, lower the risk of heart disease, and fight off autoimmune diseases and other chronic diseases.
Benefits of Eating Oily Fish on Keto Diet
In addition to loading up your plate with non-starchy vegetables, meal planning around fish as your main source of protein is a great way to add versatility to your dinner ideas. In addition to simply being delicious, there are many health benefits of eating oily fish and other fatty fish on the ketogenic diet.
Some of the vitamins and nutrients your body receives when it eats keto fish are:
protein
vitamin d
b complex vitamins
Additionally, the potential health benefits of incorporating more fish and seafood into your diet over long periods of time are:
Reduced risk of heart disease, heart attacks, and stroke
Lower risk of autoimmune diseases like celiac, lupus, and multiple sclerosis among others
The lesser risk of developing Alzheimer's disease
Diabetes prevention
Prevention of age-related macular degeneration (AMD)
Reduced feelings of depression and anxiety
Better sleep patterns
What Type of Fish is the Best Fish for Keto
Now after reading this far, we know that following a fish-friendly keto diet is great for our minds and bodies, but are all fish created equal when it comes to keto diet menu planning?
Let's explore the best seafood for keto dieters.
Wild Salmon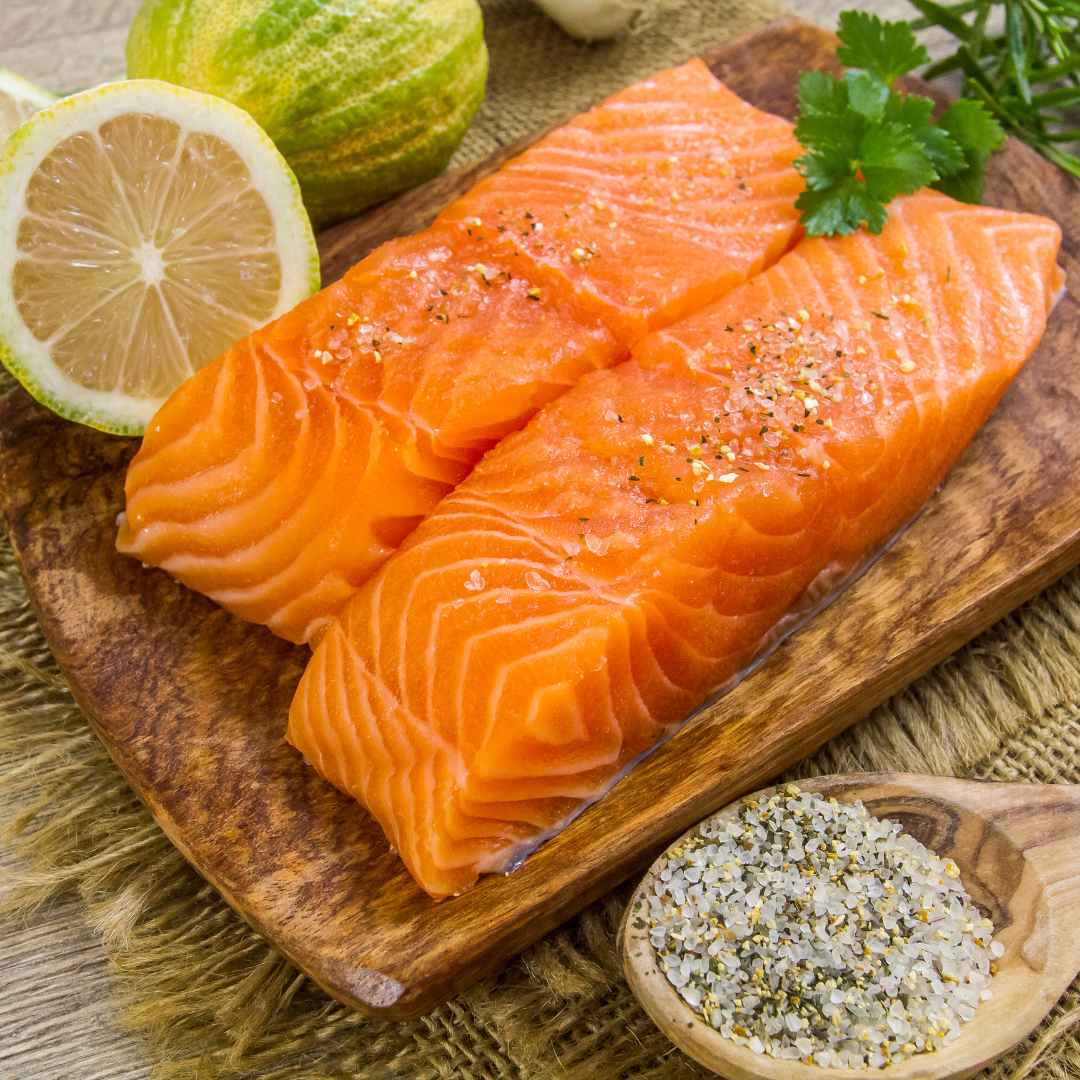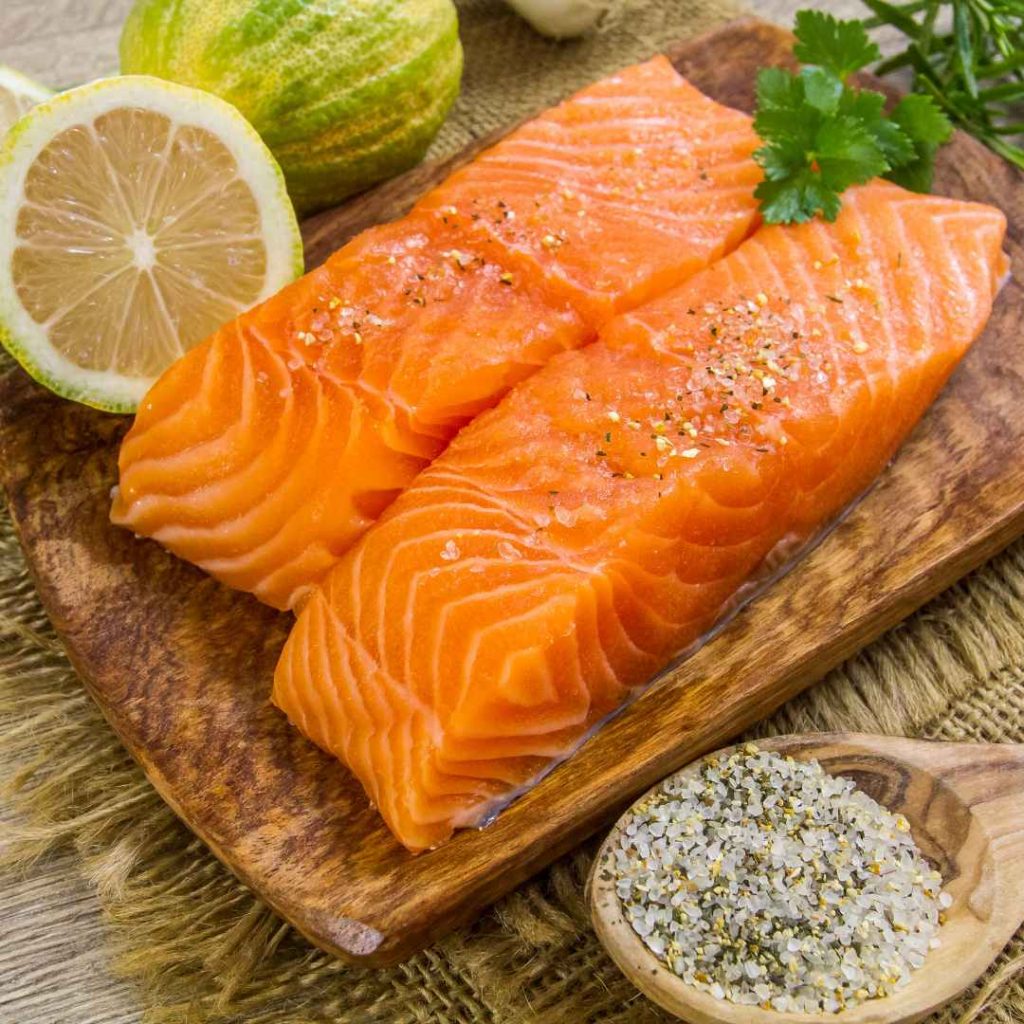 Salmon is one of the best fish for keto because it is a fatty fish that's high in omega 3 fatty acids and offers a lot of versatile fish dish options. It is always better to choose wild, fresh caught salmon or king salmon as opposed to farmed salmon. This is because fresh, wild caught salmon has the highest content of nutrients and are not treated with harmful antibiotics during the manufacturing process like farmed salmon are.
Even though canned salmon is not as high in omega 3 fatty acids as fresh salmon, it's still a fantastic source of protein, as is smoked salmon. Both canned and smoked salmon are great accompaniments to egg dishes, and wild salmon is perfect for a healthy dinner thanks to its fatty, buttery, and rich flavor profile.
Here are some salmon dinner ideas that are extremely low in carbs while offering good fats and essential vitamins needed to follow your keto diet:
Roasted wild salmon filet with fresh vegetables and olive oil, topped with a sprinkle of fresh parsley and squeeze of lemon.
Canned salmon mixed with almond flour, olive oil, eggs, and lemon zest and lightly pan fried into a salmon cake in butter or olive oil, served with a heart healthy salad.
Pan fried coconut curry wild salmon filets made with coconut oil, coconut milk, and curry powder served with fresh vegetables and lentils.
Fresh Tuna and Canned Tuna
High in protein and low in calories and carbohydrates, tuna makes for a great fish option when planning your keto diet dinners. Because tuna is higher in mercury than some other seafood options, it is best to limit yourself to no more than two servings of tuna a week. Tuna is rich in b complex vitamins as well as a good source of magnesium and potassium, all good nutrients for heart health.
Tuna has a delicate, milder flavor. Tuna steaks are excellent alternatives to traditional meats when you are looking for something different than steak or pork. The meaty texture can hold up to a lot of flavors and preparation ideas.
Tuna makes for a popular fish choice and there are many ways you can serve it for your weekly dinners, such as:
Grilled tuna steak served over wilted spinach and topped with a chimichiri sauce made of garlic, onion, cilantro, olive oil and lime juice.
Canned tuna salad mixed with celery, onion, and herbs and stuffed in an avocado for rich, buttery and sweet flavor.
Tuna steak roasted with red pepper flakes and teriyaki, topped with butter, and served with roasted vegetables and edamame salad.
Flaky White Fishes
There are a lot of versatile fish that fall into the category of white with a flaky texture. Most white fishes are have a sweet and buttery, yet mild flavor and are high in protein and other nutrients. In addition to being healthy, filled with vitamins, and perfect for your keto diet, flaky fishes are delicious because they soak up flavor and are usually easy and quick to prepare.
Our favorite flaky white fish for keto dieters are:
Seabass
Cod
Tilapia
Haddock
Flounder
Snapper
Atlantic mackerel
Sole
Most flaky white fish are easily adaptable for different meal ideas and easy and quick to prepare. Here are some of our favorite preparations:
Lemon sole roasted in the oven with a heaping mixture of zucchini, onions, red bell peppers.
Tilapia, haddock, flounder, or snapper breaded fish in almond flour and pan friend in butter for added sweetness and served with roasted carrot chips.
Seabass baked with spinach and coconut milk for a creamy sauce and topped with a few shaved chilis.
Anchovies and Sardines
Anchovies and sardines have a bad rap due to their excessive oily texture and fishy smell, but they are excellent sources of protein, good fats, and add a ton of flavor to dishes.
Anchovies are a popular fish choice for keto dieters and many are known to eat them straight out of the can because they are such a wonderful source of vitamins. However, eating anchovies alone is not for everyone. They can additionally be used to flavor salad dressings and marinades as well as sauteed into sauces for added nutritional value to fish and non-seafood based meals.
Sardines are very beneficial in fighting off autoimmune diseases and inflammation while offering other great nutritional value. They can be pan fried and make for a tasty snack or accompaniment to a meal or you can mix them into zucchini noodles for a substitute to pasta for an Italian dinner night.
Shellfish
Shellfish are delicious, sweet, delicate, buttery, and packed with nutritional value for people looking to lose weight on the keto diet. Shellfish stands up well to melted butter, cream sauces, and olive oil based marinades for additional healthy fat content. One of the best things about shellfish is that it can often can feel you are eating comfort foods as they taste decadent while still being low in carbs and calories.
Our favorite shellfish to eat when following a keto-friendly diet are:
Shrimp or prawns
Lobster
Crab
Scallops
Langastino
Crayfish
You can serve shellfish over spaghetti squash with your favorite red sauce, cook skewered shrimp on the grill with your favorite keto-friendly barbeque sauce, or simply dip your deliciously prepared lobster into melted butter for a delicious keto dinner.
Now You Are Ready For Your Next Keto Dinner
After reading this blog you now know that when it comes to mastering your keto meal plan, there can be a number of options. Additionally, you now know that when it comes to finding the best fish for keto friendly dinner ideas, it's best consider salmon, trout, and tuna.
These fish are all high in healthy fats and protein, making them perfect choices for those following a ketogenic lifestyle. Plus, they're versatile and can be cooked in a variety of ways, so you'll never get bored with your meals. So next time you're looking for some delicious and nutritious keto dinner ideas, don't forget to add these three amazing fish to your list.
Come Enjoy Freshly Fried Seafood, and More, at NC Seafood!
If you're ready to treat yourself to some high-quality fish with no fishy scents in your home, visit us at NC Seafood Restaurant! Check out our menu and order online now. We certainly look forward to seeing you! If you are not able to visit us locally, we would love for you to stay up to date with us through our newsletter, sign up below!