When it comes to Thanksgiving, the traditional dishes like turkey and mashed potatoes often steal the show. But why not shake things up this holiday season with some delicious Thanksgiving seafood dishes? Crab and corn bisque is a creamy, comforting starter, while baked cod topped with breadcrumbs and herbs makes for a light yet satisfying main course. For something a little more decadent, try shrimp scampi served over linguine or succulent grilled salmon drizzled with lemon butter. And who could resist crab cakes made with fresh lump meat and a side perfectly glazed brussels sprouts?
These tasty seafood dishes are sure to be a hit at your Thanksgiving feast. So while you don't have to ditch the traditional thanksgiving dinner with turkey, why not add a little something new and unexpected this year – your taste buds and fellow seafood lover will thank you!
Crab and Corn Bisque
A huge hit on many seafood restaurants menus around the country, Crab and Corn Bisque is sure to be a hit at your next holiday rendezvous! It's a deliciously creamy soup that combines the rich flavor of juicy crab meat with the sweetness of corn. The combination may sound unusual, but trust us – it's a winning combination for a delicious seafood starter this Thanksgiving. To make it even better, try adding some diced red bell pepper for a pop of color and tomato paste for an extra hint of savory flavor.
Ingredients
Recipe brought to you by Went There 8 This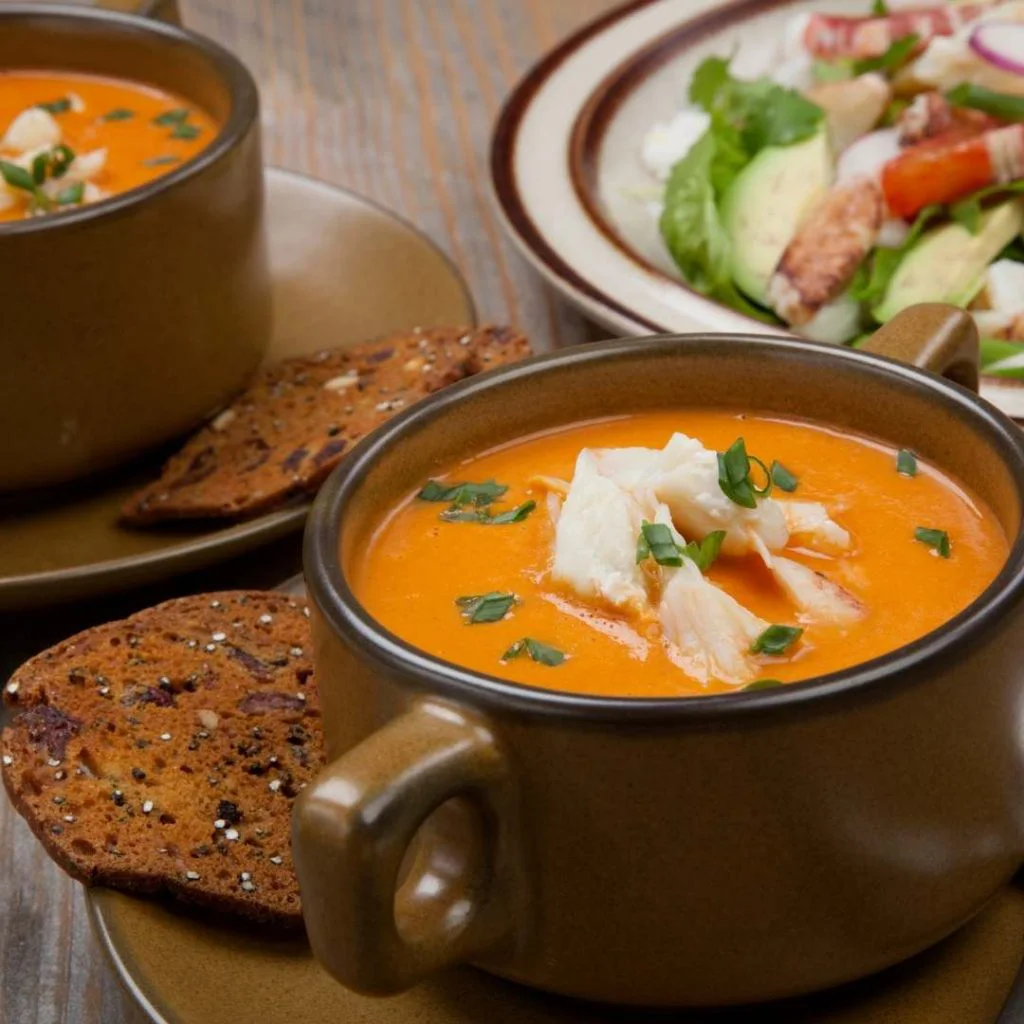 Instructions
Heat the butter in a Dutch oven over medium heat until melted.
Add the onion and garlic and sauté until softened, about 3 minutes.
Add half the corn and cook another 2 minutes.
Add the sherry and cook down for 5 minutes.
Add the salt, pepper, cayenne pepper, tarragon and crab boil and stir.
Pour in the seafood stock and bring to a simmer. Simmer for 10 minutes.
Use an immersion blender to blend until mostly smooth (it's okay if it's still a little chunky).
Stir in the cream and the remaining corn and simmer for 5-10 minutes, until thickened.
Stir in the crab meat and then remove from heat.
Add additional salt, if necessary, and serve in bowls garnished with green onions and croutons.
Baked Cod with Garlic Butter
Baked cod with garlic butter is one of the simplest yet tastiest seafood dishes out there. The mild, flaky fish pairs perfectly with the savory, melted garlic butter sauce. It is also a great dish to add your own personal touch too as it can be paired with a number of sides as well as additional seasoning to make it YOU! So while you may have your go to way to roast turkey and handed down ham recipes, we suggest that this one become your staple Thanksgiving fish recipe.
Ingredients
3 cod filets cut in half
salt and pepper
Cajun Garlic Butter Sauce:
1/4 cup butter melted
1 Tablespoon olive oil
3 garlic cloves minced
1 Tablespoon Cajun Seasoning
Instructions
Preheat oven to 400 degrees. In a 9×13 inch baking dish add the cod and sprinkle with salt and pepper
To make the Cajun Garlic Butter Sauce: In a small bowl whisk together the melted butter, olive oil, garlic and cajun. Spread evenly over the fish.
Bake for about 15 minutes or until the fish is opaque and flakes easily
Recipe brought to you by The Recipe Critic
Shrimp Scampi
Shrimp Scampi is a classic Italian dish that features succulent shrimp cooked in a garlicky and buttery sauce. Many variations exist, with some featuring added white wine and lemon juice for a burst of bright flavor. Shrimp Scampi pairs nicely with linguini or other long noodles, allowing the delicious sauce to be absorbed by the pasta. For a heartier meal, it can also be served over a bed of fluffy rice or creamy mashed potatoes. Shrimp Scampi is easy to prepare and makes for an elegant yet approachable dish at the dinner table that can be paired beautifully with wine!
Ingredients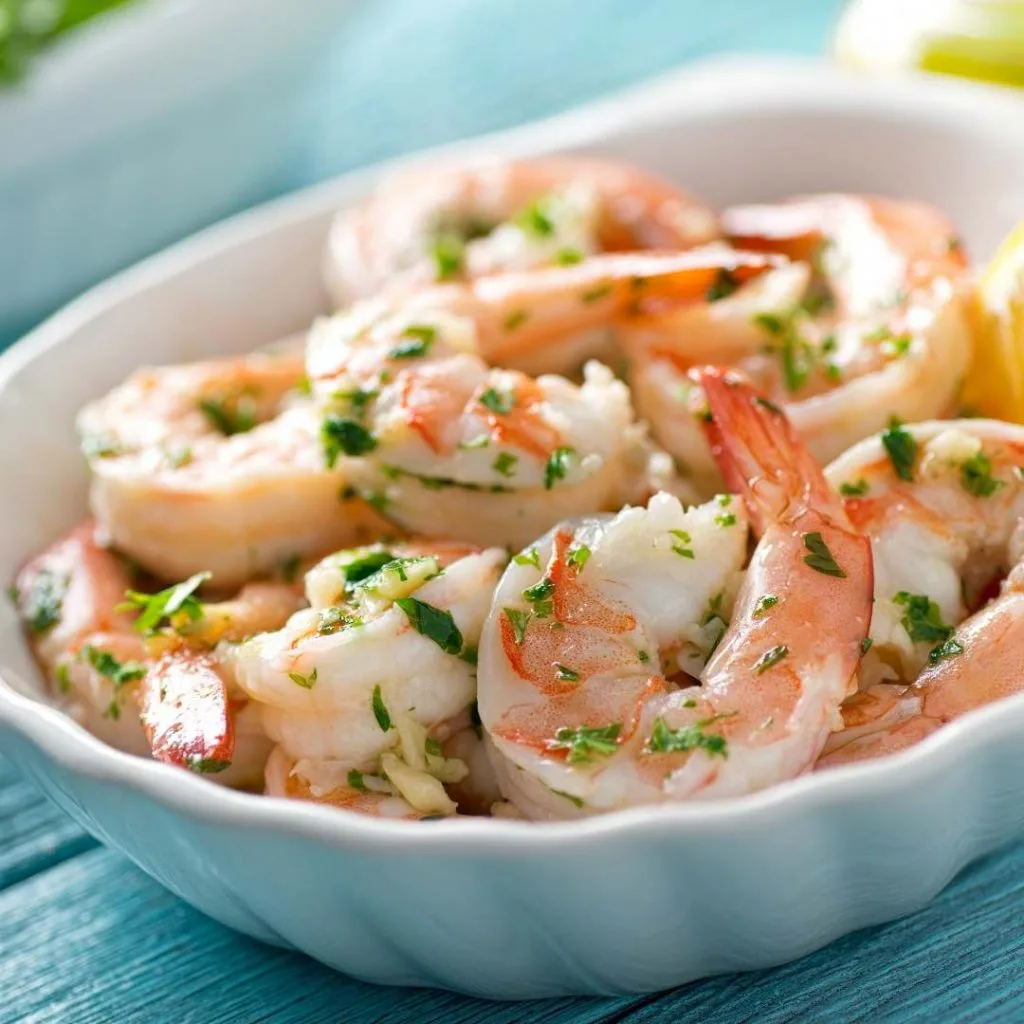 1 pound (16 to 20 count) large raw shrimp, shelled and de-veined, (if you want, keep the tail on for an attractive presentation)
2 tablespoons extra virgin olive oil
2 to 3 tablespoons butter
Salt
3 to 4 cloves garlic, slivered, or 1 tablespoon minced garlic
1/4 to 1/2 teaspoon red pepper flakes (less or more to taste)
1/2 cup white wine (we recommend a dry white wine, such as a sauvignon blanc)
2 tablespoons finely chopped parsley
Freshly ground black pepper, to taste
1 tablespoon lemon juice
Directions
Sauté the garlic and red pepper flakes in butter and olive oil:

Heat a sauté pan on high heat then reduce to medium high heat. Swirl the butter and olive oil into the pan. After the butter melts it will foam up a bit then subside. If using unsalted butter, sprinkle a little salt in the pan. Stir in the slivered garlic and red pepper flakes.

Add the shrimp and white wine:

Sauté the garlic for just a minute, until it begins to brown lightly on the edges, then add the shrimp.
Add the wine and stir to coat the shrimp.
Move the shrimp, so they are in an even layer in the pan. Increase the heat to high and boil the wine for about two minutes.

Add the shrimp and white wine:

Sauté the garlic for just a minute, until it begins to brown lightly on the edges, then add the shrimp.
Add the wine and stir to coat the shrimp.
Move the shrimp, so they are in an even layer in the pan. Increase the heat to high and boil the wine for about two minutes.

Toss with parsley, lemon juice, and pepper:

Remove the pan from the heat. Sprinkle the shrimp with parsley, lemon juice, and black pepper, and toss to combine.

Serve hot with bread, pasta or rice:

Serve as is, or with crusty bread, over pasta, or over rice (for a gluten-free version)
Recipe brought to you by Simply Recipes
Grilled Salmon with Lemon Dill Sauce
Grilled salmon is the seafood dish that checks the box for a delicious and healthy dish at your thanksgiving meal. When cooked over a flame, the fish achieves a tender, flaky texture while retaining its moisture. Maybe grilling isn't an option for you, try the same dish with a smoked salmon option! To enhance its flavor, we recommend topping it with a tangy lemon dill sauce. The brightness of the lemon pairs perfectly with the rich taste of the salmon, and the dill adds an additional layer of herbaceous complexity. Serve this dish with a side of asparagus, green beans, or any steamed vegetable assortment for a complete meal that will satisfy the palate of all your dinner guests.
INGREDIENTS
1/2 cup salted butter, softened
1 lemon, zest and juice – divided
2 to 3 tablespoons fresh dill, minced
1/4 teaspoon fresh ground black pepper
kosher salt, to taste
olive oil, for salmon and grill grates
1½ pounds salmon, skin on, or four 6 ounce pieces
INSTRUCTIONS
MAKE THE LEMON DILL BUTTER:
Combine the softened, salted butter in a bowl along with the lemon zest, dill and black pepper. Cut the lemon in half and keep it over to the side until later.
Stir the butter until everything is combined. Scoop the lemon-dill butter out and plop it down in the center of a piece of plastic wrap. Use the wrap to form the butter into a rectangular shape. Wrap and pop it into the fridge until 30 minutes before you are grilling.
MAKE THE SALMON:
Pull out the salmon and bring it up to room temperature for about 20-30 minutes. Divide it into four portions and lightly brush or spritz with your Misto both sides of the salmon with olive oil. Sprinkle with a couple pinches of kosher salt or use your favorite season salt.
Meanwhile, clean your grill grates and rub them with a paper towel that has olive oil on it. Preheat your grill to medium-high. Once hot, open the lid and reduce the heat to medium. Lay the salmon skin-side-down onto the hot grill grates. Let the salmon cook for 6 minutes, rotating a quarter turn halfway through, for hash grill marks.
After the 6 minutes, flip and grill for another 5-6 minutes. Turn the salmon after 3 minutes for those hash marks. The salmon is done when it is opaque and flakes easily.
Remove and top with a pat of lemon-dill butter and squeeze of fresh lemon juice.
Recipe brought to you by Simply Scratch
Crab Cakes
Crab cakes are a delicacy loved by seafood aficionados everywhere. Made with fresh crab meat and seasoned breadcrumbs, they make for a tasty addition to any meal. Don't feel overwhelmed with their fancy reputation, while they can be found on menus at high-end restaurants, they are also surprisingly easy to make at home for all your special occasions.
INGREDIENTS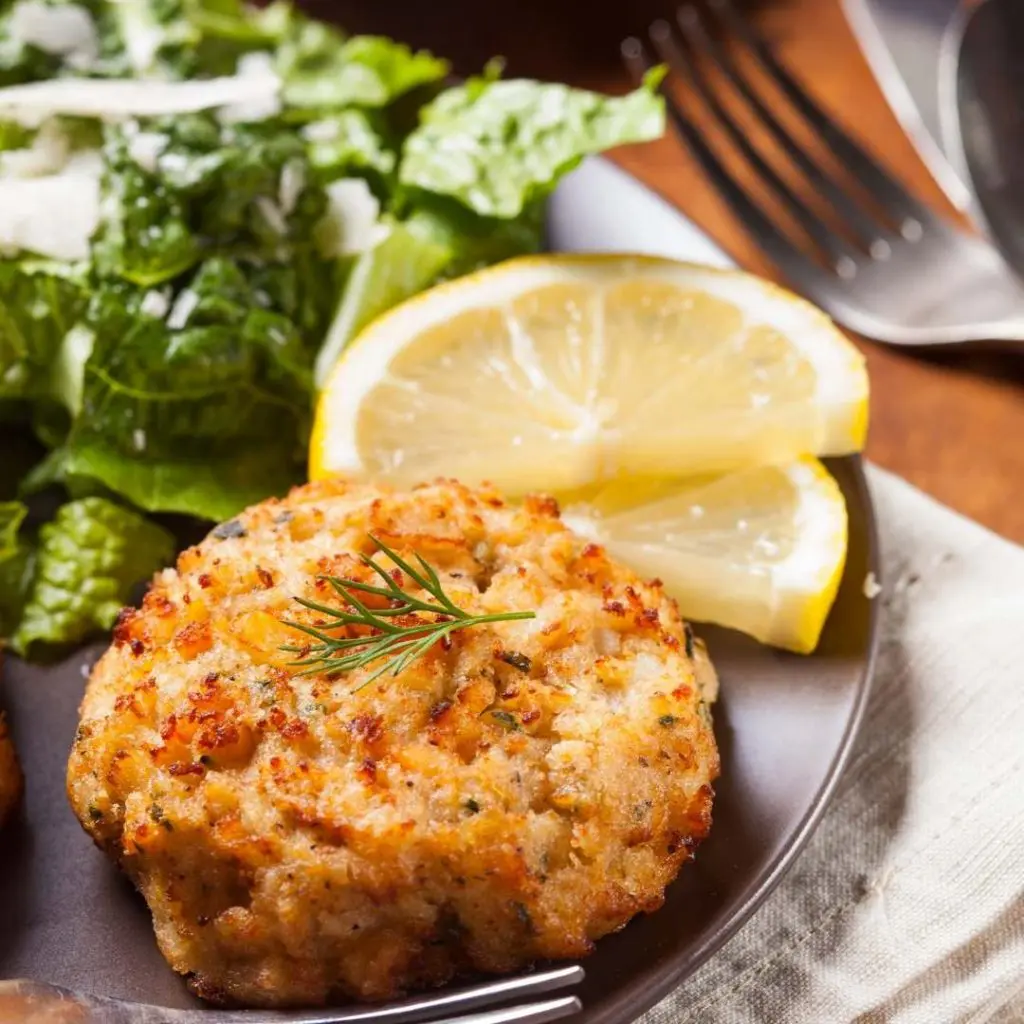 1 large egg
3 Tbsp mayonnaise
1 tsp Dijon mustard
1 1/2 tsp Worcestershire sauce
3 – 4 dashes hot sauce, optional
1/4 tsp garlic powder
1/2 tsp paprika
1/2 tsp salt
3 Tbsp red bell pepper, finely diced
1/3 cup green onion, finely sliced , about 3–4
1 Tbsp parsley, chopped, fresh or dried
2/3 cup cracker crumbs, crushed, butter or saltines
oil, for frying
INSTRUCTIONS
Transfer crabmeat into a colander then set aside to drain excess liquid. In a medium-sized mixing bowl, stir together egg, mayonnaise, mustard, Worcestershire sauce, hot sauce (optional), garlic powder, paprika and salt until completely combined. Add bell pepper, green onion and parsley then stir to combine.
Gently fold in drained crabmeat until well coated. Once the crab is moistened, add cracker crumbs, gently folding until the crumbs are completely mixed in. Try to leave crab chunks as intact as possible. Cover mixture then refrigerate for at least 30 minutes.
Form patties using ⅓ cup of the mixture at a time. When forming the patties, compress the mixture well, but don't mash them together or they will become too dense. The mixture will be moist, but should hold together. If the mixture does not hold together, just add a bit more cracker crumb.
Place a large skillet over medium heat then add just enough oil to barely cover the bottom of the pan. Heat oil until it is shimmering, then gently place crab cakes into the pan. Do not overcrowd the pan and work in batches if necessary.
Fry crab cakes until dark golden brown, about 3–5 minutes per side. Remove from pan then transfer to a paper towel-lined plate to remove excess oil. Serve piping hot with a wedge of lemon and your favorite tartar sauce. Enjoy!
Recipe brought to you by Everyday Dishes
Let's Get Started! Upgrade Your Thanksgiving Dinner Today!
While it may seem unorthodox to add seafood to your holiday meal, trust us when we say that after trying these recipes you'll be spreading the news that seafood pairs well with any type of Thanksgiving menu! So even if you aren't quite ready to swap out the usual Thanksgiving meal for one of the listed seafood recipes or have the budget for fresh, tender lobster meat you have options! Even if it's as simple as adding a dish of fresh shrimp and cocktail sauce as an appetizer, whatever seafood you may choose to have at your Thanksgiving table, we're sure it'll be a crowd pleaser!
The NC Seafood Team hopes you have a wonderful Thanksgiving and enjoy your time with family and friends. Then after you enjoy the Thanksgiving holiday, be sure to come in or check out our menu and order online for pick up to enjoy our delicious, fresh seafood prepared right from our kitchen to your table. To stay up to date on more recipes, seafood fun facts, and restaurant updates sign up for our newsletter here!