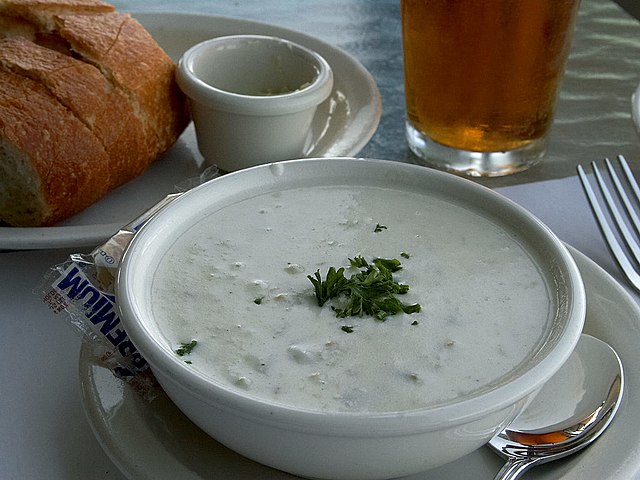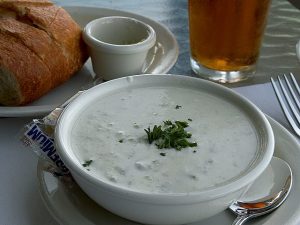 While we are known for being the best Calabash seafood restaurant in Raleigh, we know that there's nothing like a delicious bowl of soup on a chilly fall day. That's why we're sharing some delicious seafood soup recipes – rich, hearty, and warm, these soups will chase away any chill!
Seafood Soup with Shrimp and Salmon
With salmon, shrimp, and lots of herbs and fragrant vegetables, this is a delicious meal that you can easily customize for your preferences. Use tomato paste for a thicker soup, add more garlic and herbs, or try tilapia instead of salmon!
This recipe makes 1.5 quarts of soup, so it's a meal for the whole family, especially when served with a loaf of warm French bread.
Ingredients
1 tablespoon olive oil
1 small onion, chopped
1 small green pepper, chopped
2 medium carrots, chopped
1 garlic clove, minced
1 can (15 ounces) tomato sauce
1 can (14-1/2 ounces) diced tomatoes, undrained
3/4 cup white wine or chicken broth
1 bay leaf
1/2 teaspoon dried oregano
1/4 teaspoon dried basil
1/4 teaspoon pepper
3 tablespoons minced fresh parsley (or 2 teaspoons dried)
3/4 pound salmon fillets, skinned and cut into 3/4-inch cubes
1/2 pound uncooked medium shrimp, peeled and de-veined
Instructions
Peel and remove the veins from the shrimp, but hang on to the shells.
Spray a Dutch oven with cooking spray and heat over medium-high heat. When it's hot, add shrimp shells, onion, garlic, and peppers and sauté for three minutes, stirring almost constantly.
Add wine to the pan and stir, cooking for three minutes until the wine has nearly evaporated.
Add 6 cups of water and simmer for 40 minutes uncovered until there is only about 3 cups left in the pot. Strain the stock into a bowl and set aside, tossing out the shells, onion, pepper, and garlic. Wipe out the Dutch oven.
Melt butter in your pan over medium-high heat, and stir in flour. Stirring constantly, cook for a minute, creating a light roux. Add one cup of your stock back in slowly, stirring with a whisk, then stir in the remaining stock after the roux-stock blend is combined. Add in cream, salt, and saffron if you have it, and boil for about five minutes until it's a bit thicker.
Gently stir in shrimp and fish, reduce the heat, and simmer for about three minutes, until the fish is flaky and the shrimp are pink.
Ladle the soup into bowls, and top each one with 1.5 teaspoons of fresh cilantro and 1.5 tablespoons of avocado. Serve with fresh lime wedges and enjoy!
Recipe courtesy of Julianna Grimes, Cooking Light
Creamy Seafood Chowder
For a hearty, flavorful soup that is ready in only about 30 minutes, try this delicious seafood chowder that has fish, shrimp, and scallops.
Ingredients
1/4 cup butter
1 medium onion diced
1 teaspoon old bay seasoning
1/4 teaspoon thyme
1/4 cup flour
1 stalk celery sliced
1 carrot sliced
1 pound potatoes peeled and cubed
1/2 cup corn
5 cups broth seafood or chicken
1/2 cup white wine
8 oz mild, white fish cut into chunks (Cod, tilapia, haddock, salmon)
8 oz scallops
12 oz shrimp peeled and deveined
6.5 ounce chopped clams canned, drained
2 cups heavy cream
1 tablespoon parsley
Instructions
Cook onion in butter until tender. Add flour, Old Bay seasoning, and thyme and cook 2-3 minutes.
Add everything but cream, seafood, and fish. Once it comes to a boil, reduce heat and simmer for 10 minutes.
Gently stir in seafood and cream. Cook until fish is fully cooked and flaky and potatoes are tender, about 8-10 minutes.
Stir in parsley and season with salt and pepper to taste.
Recipe courtesy of Holly Nilsson of Spend with Pennies
Save the Cooking and Visit Our Raleigh Calabash Seafood Restaurant
While we hope you enjoy these delicious soup recipes, we know that sometimes, it's nice to not have to cook. When those evenings happen, come visit us for delicious, fresh fish and seafood! Even if you're in the mood for soup, we've got you covered with our thick, creamy New England clam chowder. Dine-in with us, check out our menu, or order for pickup online today!